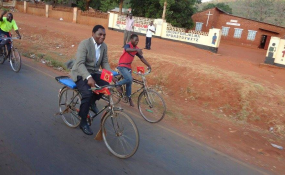 Photo: Zambia Reports
opinion
By Peter Adamu
For the last one month, news from Zambia is predominately focused on the incarceration of opposition leader Hakainde Hichilema who faces treason charges and has remained in custody for almost one month as the offence is non-bailable.
This development has undoubtedly left a dent in the otherwise respected image of political stability the country has put up over the years.
While Hichilema action in Mongu is unacceptable, it will never amount to any form of treasonable offence before any competent court of law or society. It should have ordinarily passed as a mere distraction by an attention seeking political.
But when those with power lack the necessary attributes of discernment, they create a storm in a cup of tea. And such a storm has the potential to trigger emotions and turn the victim into an instant hero.
This is what we may experience of the Hichilema episode. The international community has watched in dismay what a joke of our justice system we have made.
In a way Hichilema was always going to land himself in trouble with the law. Hichilema had since losing elections in January 2015 endeavoured to carry himself like a man with official state power.
He has repeatedly picked fights with President Edgar Lungu and everything else that he does not agree with. He has accused President Lungu of every imaginable ill in the book, labelled the judiciary corrupt and scolded the police repeatedly as being incompetent. This is his right as a political person.
Yes, Hichilema has even turned Chainama Hotel grounds into a battle field where he has labelled everything that does not please him names. Who has he not insulted? Take the three arms of government just as a refresher to all of us; has he not called the head of legislature Patrick Matibini a PF cadre?
While we are still at it, has the judiciary not taken enough venom from him? And the big one the head of the executive who has also been on Hichilema's verbal hit list?
Now that incident in Mongu may not have been treasonous but the recklessness with which it was executed tells just how open-ended Hichilema's disregard for the law runs.
It was definitely cheap for the state to tuck him away for treason but definitely that single act by Hichilema and his disciples smacks of recklessness.
We do not imagine that the treason charge against Hichilema will hold but we are hoping that Hichilema will learn to practice his politics with a little more tact once this episode is over.
Like he has been advised a thousand times he should focus his energies on building a strong case for the 2021 general elections.
After all he has twice come within a whisker of victory and should therefore know better that confrontation with the law will not win him votes but cost him time to mobilize his supports base. Conversely, the PF should know playing into the Hichilema theatrics is not only costing the reputation, if at all they have any, but throwing the country into miserable standing on the global scale.
If the Patriotic Front does not care about the image of their party, they can at least care about Zambia. This Hichilema circus must end. Please release the man so he can go about his life. The punishment is enough, he has served a political sentence he should never have been subjected to. Indeed, like many have observed Zambia is bigger than any of us. Please release HH; free him from this unnecessary persecution, it is cruel, barbaric and dehumanizing. Please release the man.