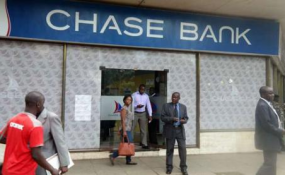 Photo: The East African
By Allan Olingo
Mauritius' SBM Holdings is bidding to buy a stake in Kenya's Chase Bank, which will give it greater presence in the East African economy after acquiring Fidelity Bank last year.
"SBM is bidding yes. Fidelity is a very small bank. Chase is interesting for our Africa strategy," Ki Chong Li Kwong Wing, chairman of SBM Holdings, told Reuters.
SBM joins a group of would-be buyers for the troubled bank which the central bank has shortlisted. In a midweek update to interested parties, including depositors whose money is still stuck with the bank, CBK said that it had finished analysing the expressions of interest from interested buyers.
Chase Bank is expected to have a new owner at the end of September.
"The evaluation of the EOIs has now been completed and a shortlist of qualifying investors has been identified. The shortlisted investors will be granted access to comprehensive confidential data that will allow them to develop a formal proposal for taking an equity interest in Chase. They must submit their formal proposals by June 9," the regulator said.
The interested buyers include three local banks, four foreign banks and five other financial institutions and consortia. Several international banks that have recently shown interest in Kenya are among those eyeing a stake in Chase Bank, hoping to use it as their entry into the region.
CBK is seeking to sell Chase as part of a restructuring plan meant to speed up its recovery.
"We have ensured that the candidates have the capacity to facilitate a speedy and optimal recovery for depositors, creditors and other stakeholders in Chase," CBK said.
Chase was placed under receivership in April 2016 following a run on the bank caused by reports that it was facing serious liquidity problems and that its directors had stolen large sums of money through unsecured insider lending.
The Chase Bank rescue comes as NIC Bank announced that it had completed managing the collapsed Imperial Bank after its nine-month tenure of processing payments to depositors and collecting loan repayments came to an end.
On Wednesday, NIC Bank said it had paid out two batches of disbursements amounting to $107.8 million to more than 5,500 Imperial customers and recovered $50 million from borrowers.
"We have completed our due diligence and review of loans, other assets of Imperial Bank and made a proposal with regard to certain loans, assets, branches and staff for consideration by the Kenya Deposit Insurance Corporation," said NIC group managing director John Gachora.
Imperial was placed under receivership in October 2015, after the CBK learnt of the loss of $340 million attributed to fraudulent dealings involving then senior management, which eventually led to its collapse.
This week, the regulator also lifted the moratorium it had imposed on the licensing of new banks in November 2015, following the collapse of Imperial Bank and Dubai Bank under the weight of banking malpractices. CBK licensed DIB Bank Kenya Ltd to start operations after the lapse of a 16-month moratorium in March 2017.
DIB, a subsidiary of Dubai Islamic Bank, plans to use Kenya as a springboard to its sub-Saharan Africa expansion plan. The bank will offer Sharia-compliant banking services, becoming the third Sharia-compliant bank, after Gulf African Bank and First Community Bank.
At the start of the moratorium, DIB Bank Kenya and Mayfair Bank had been given approval in principle to set up infrastructure to start operations.