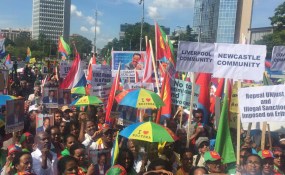 Photo: YPFDJ Germany
opinion
By Zeray Hailemariam
For the last 25 years, Eritrea does not have a well defined and established constitution, a foreign affairs or an economic policy. Statecraft process has not yet started; democratization process is either halted or denied. There is no government but one armed political front leading the tiny bankrupt country. And, economic development process to improve livelihood of citizens is obscured indefinitely.
For that reason, no political scientist can exactly categorize the type of government or state that sits in Eritrea. Some, desperately, attempted to equate it with the government of North Korea, which is somewhat flawed. Few listed it in the totalitarianism category, but it does not fulfil standards to be called government in the first place. In the 21 first century, be it dictator or democratic governments, they all have defined courts, economic policies, foreign policy, budgetary system and a constitution regardless of their effectiveness or implementations. None of them exist in Eritrea in anyway or shape. An exact definition that fits the behaviour and structure of a 'state' is not be found in Eritrea.
After coming to power, the regime conducted complete social engineering like that of Chinese Cultural Revolution to create manageable society. Eritreans were told and taught extensively through media, seminars, and training that they are unique, while the 'Sawa' military training along with other social networks are hugely invested in creating false sense of identity in the minds of Eritreans. As a result, they started to believe that the international community stand against them and their country. The foreign policy of Eritrea is, thus, designed to spread mistrust and hatred upon the next door countries. And, the citizens are made to think that way too. After this, Eritrea begun to be ruled at will. Then, the current agonies begun to take roots.
Since day one, Isaias Afeworki carefully avoided having clear rule of law like constitution, court, political and economic policy in order to rule with impunity. For Isaias, having constitution and court, independent media, democratic elections would mean obstacles to do whatever he wants. To avoid them systematically, he had to fabricate and create possible reasons or covers. Entering into war with neighboring countries, therefore, was the most convincing reason to postpone all the question of the people and stay in power unchallenged.
Therefore, the hostile Foreign Policy of Isaias Afeworki emanates from these calculations. To prolong his power and remain unaccountable, he had to manipulate the mentality of his own people and comrades timely. The questions of democracy, justice, constitution, rule of law, economic development, and equality of nationalities, religions, and other basic rights can be delayed or denied if he can create the perception that the country is under attack. And, those who raise the question would be labelled as traitors, sellouts etc...
He provoked Sudan first. To be fair, he had good reasons to go into war with Sudan since the latter was widely suspected of spreading Islamic fundamentalism in the horn of Africa at that time. Thus, Isaias's move against Sudan was taken seriously not only locally but also by Ethiopia and the international community as well. Hence, nobody suspected him of his future projects. Once, he won the hearts of the local people and outside world as a leader against terrorism, he would use it against others to realize his project of prolonging his power. Thus, he personally triggered the minor disputes he had with Yemen again over Hanish islands and made it serious war which helped him gain support from his people, though not of his close comrades. The offensive he launched against Sudan and Yemen benefited Isaias for six years in that he was able to sidestep the much demands of the people. Eritreans could not demand the ratification of constitution, the establishment of courts and democratic principles in their land since the country is under "attack" by neighbours. However, Isaias's card didn't last long. People begun raising these buried questions again. He had to find other new reason to suppress them again, and Ethiopia was the best candidate to do exactly that given Ethiopia's portrait as 'colonialist' country in the minds of Eritreans and the 30 years long armed struggle of Eritrea was fought against Ethiopia.
Isaias sent his secret brigades to instigate war against Ethiopia via the small town of Ethiopia's Badme, a remote area where nobody can know who started the war. Ethiopians were shocked. Eritrean were surprised as well since most trusted their leader in his claim that Ethiopia has opened war to re-take Eritrea. His Medias and cadres commenced massive false propaganda to confuse the people locally and mislead the international community to give the impression that Ethiopia invaded Eritrea, which was successful at first given that most countries and all Eritreans, except few, portrayed Ethiopia as the invading country.
However, when Isaias attempted to prolong the war indefinitely and in the same time when Ethiopia withdrew its troops from Eritrean occupied territory justifying that it had no the intention to invade other areas but restore its forcefully occupied territory, Isaias begun losing grounds in his propaganda war. Eritreans and the international community started to ask questions. After all, if Isaias claim that Ethiopia is the provocateur was right, Ethiopia would not have withdrawn its advancing troops. Now, the truth that was hid from Eritreans for the last 15 years is coming out. The main reason Isaias did invade Ethiopia was not just because he wanted it or he had land claims. Not at all! He used it to postpone the demand of democracy and constitution of the people and stay in power unchallenged in the pretext of 'imminent' war.
One article contained in the constitution draft of Eritrea before the war of Ethiopia and Eritrea says: "An Elect president stay only for four years if not elected again". It further underlines: "A president should be Eritrean by blood." Alas, the current president does not qualify to be president of Eritrea as he could not pass the two basic points. It is absolutely against his ambition to be a president of Eritrea for just 4 years or more four and he is not Eritrean by blood either. Everyone knows this and I suspect the Eritrean elites put that article to avoid him from power knowing he does not qualify. Quickly, he declared that "when a country is under foreign attack, it is a crime to raise questions of democracy, justice, economic development". For this reason, he stayed in power unchallenged up to now. Those who raised the question are now killed, jailed or vanished or labelled as traitors.
In conclusion, the tactic and strategy Isaias Afeworki of Eritrea applied to stay in power is first to provoke neighbouring countries and then spread false propaganda that Eritrea is attacked. After that, declare state of emergency to suppress the people's demand for constitution, democracy and development. And it was an effective mechanism.
The political crisis brought social crisis and economic crisis followed by mistrust among Eritreans. Puzzled by the situation, Eritreans are uncertain where to go, how to oppose or what to do. Frustrated and confused generation is in the making in Eritrea, which is very dangerous for the future. The mass influx as a form of refugee has been a 'blessing' for Isaias considering that it means not enough youth inside Eritrea who can put pressure against the regime.
"A regime change policy would secure the country whilst destroying the regime. However, the containment policy would do just the opposite - it would unravel the country while sustaining the regime. The longer the waiting game (no peace no war policy), the more likelihood that outside regional variables over which Ethiopia has little control work against it", says Yosef Ghebrehiwet, an Eritrean scholar. He is absolutely right that the Isaias regime does not care about the 'no war no peace' policy as far as it stays in power at all costs. However, it will be totally dangerous to both Ethiopia and to the existence of the state of Eritrea to be waiting until Isaias dies, as it would mean giving full control of the country to foreign extremists and terrorists. Then, Ethiopia will be encircled by fragile states like South Sudan, Somalia and now Eritrea, making it difficult and costly to manage security threats. Thus, it will become adding salt into the existing wound. Arguably, a policy of regime change should be applied regarding Eritrea. However, it is to be naive to advise that before having strong opposition party in hand. Rightly, it is high time to help Eritreans to establish responsible and capable party from now onward.