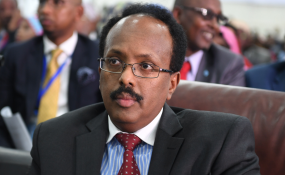 Photo: Ilyas Ahmed/UN
Somalia's Federal Government President Mohamed Abdullahi Farmajo has arrived back in Mogadishu on Saturday morning, after attending the London conference.
President Farmajo has returned from London, where he attended a one-day Intentional Conference on Somalia, which focused on the country's security, and humanitarian crises.
During his stay in London, Somali President Mohamed Abdullahi Farmajo met with several leaders and top officials, including the United States Secretary of Defense James Mattis.
London conference was the 3rd International summit on Somalia, since 2012. The UK PM Theresa May who opened the meeting showed support to the new Somali government.