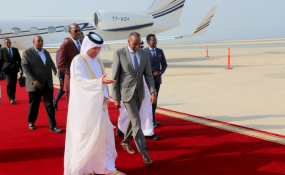 Photo: Shabelle Media Network
The Prime Minister of the Federal republic of Somalia Hassan Ali Khaire has on Saturday arrived in Qoha, the capital of Qatar on official visit.
Accompanying by Ministers and MPs, the PM has received a cordial welcome from top Qatari officials and Somali ambassador to Qatar Omar Idriss on his arrival at Doha Airport.
The PM's trip to Doha came after Qatari offered him an official invitation to attend a summit codenamed "Doha Forum" that will focus in Somalia.
This is the first foreign visit since he took the oath of Office in February of this year.