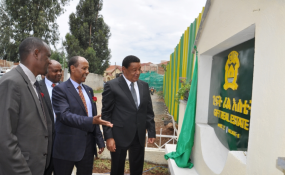 Photo: The Ethiopian Herald
By Haftu Gebrezgabiher
President Dr. Mulatu Teshome said the government would continue to support developmental real estate developers in a bid to enhance their roles in improving citizens' quality of life.
Speaking at the Gift Real Estate Village II inaugural ceremony yesterday, the President said that the government has been working to ease the shortage of housing in urban areas through building a large number of housing complexes .
Moreover, he noted that the government could not realize its housing development without the active participation of real estate developers.
The president on the occasion called the real estate developers and the public at large to vigilantly combat the rent seeking mentality of the irresponsible real estate developers.
Regarding government's incentives to real estate developers and private constructors , he said : " We have crafted conducive policies that encourage the private sector to actively involve in housing development through providing long term land leases and making available the required loans."
Urban development and Housing Minister Dr. Ambachew Mekonnen for his part stated that apart from solving housing shortage, real estate developers have been playing huge role in creating jobs and changing the city scenery .
As Addis Ababa is a home to a number of international offices, such modern villages and apartments will help the city prompting modern lifestyle, he added.
Gift Business Group PLC Managing Director Gebreyesus Egata also said that the villas constructed at CMC areas known as Village II site, consists 350 villas including row house residency and modern apartments.
The village was built at a total cost of over 800 million Birr, he added.
According to him, his company has so far constructed over 1,500 villas which includes town, narrow and apartment houses at a cost of two billion Birr.