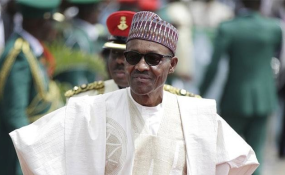 Photo: Daily Trust
By Abu Najakku
It is no longer secret that President Muhammadu Buhari is sick. Perhaps, what is secret is the true nature of his sickness. Upon his return to the country in March from the United Kingdom where he went to seek proper medical attention, President Buhari was quoted as saying "I couldn't recall being so sick since I was a young man, including in the military with its ups and downs", adding that he could also not recall having blood transfusion.
Well, on Sunday, 7th May, the President travelled again to London to meet his doctors. No sooner had he done so than the rumour mongers went back to work and the chit-chat again is that Buhari is dead. A text of the unfounded rumour of President Buhari's death is already circulating and reads thus: "Nigerian President Muhammadu Buhari has been confirmed dead in London where he was receiving medical attention... ..The Nigerian High Commissioner to the United Kingdom told reporters plans are underway to transport the body of the late President to Abuja where final burial funeral rites will be held... Vice President Yemi Osinbajo is expected to be sworn in office as the substantive President of the Federal Republic of Nigeria. Government is yet to issue an official statement on the President's demise. He was 74 years old."
Government is indeed "yet to issue official statement on the President's demise" because the truth is that President Buhari is not dead.
But who wants President Muhammadu Buhari dead? Those who wish Buhari dead are the same people that never wanted him to be elected President in the first place. In the run up to the last presidential election, they whipped up all sorts of sentiments to poison the minds of the voters. We saw some of them in Minna this past weekend. They miss their shady business and are eager to see the back of Buhari so they can resume in earnest. They were not united by the sublime prayer for a blissful marital life for Halima Babangida but the quest for power and the plot to acquire it. Dr Chukwuemeka Ezeife was there too, even though neither the bride nor the groom is Igbo. Dr Ezeife had to be there in order to settle his political I owe you to President Ibrahim Badamasi Babangida who helped him to the Government House in Awka in January 1992. Like Femi Fani-Kayode, Dr Ezeife is frustrated he has not been able to penetrate President Buhari and get a political appointment. I reserve the fullest fury of my pen for Ezeife for some other time.
Some Nigerians cannot stop being funny; the few of them who have been most vocal about President Buhari's sickness are not concerned about his wellbeing despite their posturing. They see his sickness as merely another issue they can capitalise on to push on with their opposition to his administration. They are the same people who have not been able to disclose their age. This past weekend, I read a passionate birthday message on one whole page of Thisday that Eki Igbenedion placed on behalf of the family in honour of her husband, Chief Lucky Igbenedion and I was curious when I discovered that she had omitted the age of the man. Of course, you will recall that Governor Igbenedion led the most hopeless and irresponsible administrations in Edo state. If these folks cannot even find the confidence to say publicly how old they are, what moral gumption do they have to ask President Buhari to tell them the nature of his illness.
Side by side with these people are those who want President Buhari to reveal his type of ailment whereas they cannot reveal the number of their children or indeed the number of mistresses that bore them for them. May be these people know very well that it is better to keep away from the knowledge of the left hand what the right hand does! But if you cannot tell those around some things as simple as your age or the number of your children, then you have no business regaling us with the virtue of President Buhari revealing his kind of disease!
Nevertheless, the statements by Presidential spokesmen, Femi Adesina and Garba Shehu about the wellbeing of President Buhari are reassuring. Shehu has strenuously denied Buhari's death, according to him: "Baseless rumours are trending again that unpleasant thing has happened to our beloved President, Muhammadu Buhari. If you have received this information (about the death of President Buhari) on Whatsapp or Facebook, disregard it because it is plain lies spread by vested interests to create panic. Nothing unpleasant has happened to the President. No cause for apprehension."
Well, those of us who contributed financially and morally to President Buhari's presidential campaign are rock solid behind him until the pleasant end. In just about two years, this President has largely combated Boko Haram and confined them to few areas in Borno state even as he continues to recover the stolen Chibok girls. He has ferociously fought corruption, exposed its perpetrators, seized their spoils and cut down on waste of public funds. The President has also begun the conditional cash transfer to the needy in order to address extreme poverty. The President has completed the Abuja-Kaduna rail line and put it to use; he has started the construction of the Lagos-Ibadan line as well as roads hitherto abandoned by sleazy chop and quench PDP administration.
Those who want Buhari dead are the looters, the kidnappers, the murderers and the traitors to national cause. No, corrupt folks, you have to live with the reality; President Muhammadu Buhari is not dead; he is alive and will only die when it pleases Allah. We love him; we pray for him, we continue to wish him well.