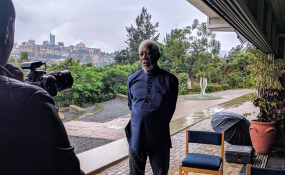 Photo: The New Times
Prominent Hollywood actor and film producer Morgan Freeman is reportedly in Rwanda in what appears to be a highly secretive visit.
The Academy award winner and one of the most senior actors in Hollywood is said to be in Rwanda on a movie making project and reportedly took time off his schedule to pay his respects to the over 250, 000 victims of the 1994 Genocide against the Tutsi at Kigali Genocide Memorial Centre.
Reports especially from Uganda media indicate that the actor, who arrived in Rwanda on Thursday, was schedule to meet Ugandan gay rights activist Jacqueline 'Kasha' Nabagesera who was supposed to work with him on a project.
Kasha was however arrested upon arrival at Kigali International Airport for what Rwanda National Police described as 'gross misconduct' and 'drunkenness'.
"Jackline N. Kasha is temporarily held at the Airport over drunkenness and gross misconduct. Appropriate actions will be taken on her case," RNP said on Twitter.
According to sources, Kasha, whose role as an activist is globally acclaimed, behaved in an erratic manner and engaged in abusive acts at the airport, prompting security to act.
Several Ugandan activists including controversial academic Dr Stella Nyanzi took to social media to demand her release.
"My friend Kasha Jacqueline Nabagesera was arrested and detained on arrival at Kigali International Airport yesterday.She had earlier departed from Entebbe Airport at 15:00HRS on Thursday 11th May 2017,"
"She was very excited about travelling to Rwanda to meet with international actor and film director Morgan Freeman," the vocal academic said.
A source at the Gisozi-based memorial confirmed to The New Times that Morgan Freeman was indeed at the memorial and filmed an interview there.
The Ugandan activist was arrested before she could meet Freeman.
The Million Dollar Baby actor is said to be putting up at Kigali Serena Hotel, though details about his visit are highly guarded.
Freeman, who won an Academy Award in 2005 as Best Supporting Actor,in the blockbuster movie Million Dollar Baby (2004) is in Rwanda with a group of American filmmakers reportedly pursuing a number of projects, whose details remain scanty.