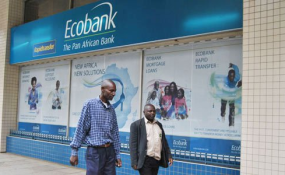 Photo: /Daily Nation
London — Ecobank has secured wins in two categories at the Retail Banking Awards in London. The leading pan-African bank was awarded Product Innovation of the Year 2017 and Retail Banking Launch of the Year 2017 at a ceremony hosted by Retail Banker International in London.
Over the course of 2016, Ecobank has focused on improving the user experience of its customers. Shifting focus from physical to digital banking, the bank has launched a wide range of innovative digital products and services, including the Ecobank Mobile App, Masterpass QR and the Ecobank XpressAccount.
Patrick Akinwuntan, Group Executive, Consumer Banking at Ecobank said, "As technology in Africa changes consumer expectations, banks must adapt to achieve financial inclusion for all. At Ecobank, we believe in the power of digital and its impact on consumers, corporates, SMEs and even micro businesses. That's why we provide our customers with a fully integrated banking experience on their mobile phones. Mobile banking is a real game changer, offering a more cost efficient channel for both our customers and the bank. Being recognised not only once but twice by the retail banking industry, demonstrates that we are on the right track."
The Retail Banking Awards celebrate organisations within retail banking which have delivered excellence throughout the year. The awards are highly regarded within the industry as a mark of outstanding performance, and represent an exceptional level of achievement.
Media Contact
Mireille Bokpe-Anoumou
Corporate Communications
Ecobank Transnational Incorporated
Tel (Lomé): +228 22 21 03 03
Email: mbokpe@ecobank.com
Web: ecobank.com
Twitter: @GroupEcobank
About Ecobank Transnational Incorporated ('ETI' or 'The Group')
Incorporated in Lomé, Togo in 1988, Ecobank Transnational Incorporated ('ETI') is the parent company of the leading independent pan-African banking group, Ecobank. It currently has a presence in 36 African countries, namely: Angola, Benin, Burkina Faso, Burundi, Cameroon, Cape Verde, Central African Republic, Chad, Congo (Brazzaville), Congo (Democratic Republic), Côte d'Ivoire, Equatorial Guinea, Ethiopia, Gabon, Gambia, Ghana, Guinea, Guinea Bissau, Kenya, Liberia, Malawi, Mali, Mozambique, Niger, Nigeria, Rwanda, Sao Tome and Principe, Senegal, Sierra Leone, South Africa, South Sudan, Tanzania, Togo, Uganda, Zambia and Zimbabwe. The Group employs over 17,000 people in 40 different countries in over 1,200 branches and offices. Ecobank is a full-service bank providing wholesale, retail, investment and transaction banking services and products to governments, financial institutions, multinationals, international organizations, medium, small and micro businesses and individuals. Additional information on Ecobank can be found at ecobank.com.