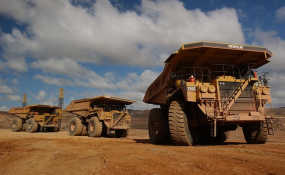 Photo: Debswana
Botswana's Minerals and Water Affairs Minister Sadique Kebonang on Tuesday insisted on maintaining the secrecy around mega government mining contracts, saying that "no country signs transparent agreements".
He said "commercial agreements are confidential by nature because of the sensitive of information they have." Kebonang was commenting on recommendations by the World Bank that Botswana should make details of its large mining contracts with private companies public, arguing that such development will improve transparency in Botswana business dealings.
But Mmegi newspaper on Tuesday quoted the minister as saying that "even the World Bank, when they give us loans some details of the loan agreement are kept secret." According to Kebonang, the confidentially and negotiation surrounding large government mining contracts is fine. "We have various representatives from the Ministry, parastatal and private sectors Government and private attorneys and mining experts who are part of government's negotiating team.
The participation of such parties in the negotiation process renders the negotiation process transparent," he was quoted as saying. Kebonang further stated that after agreements have been sealed, stakeholder's such as the media are informed about the outcome of the agreements. He said those who are given a mandate to negotiate on behalf of Government secure maximum benefits for the nation.