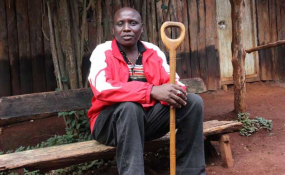 Photo: Nicholas Komu/The Nation
By Joseph Wangui
A bodyguard involved in a road accident with former President Mwai Kibaki has alleged in a court case he was mistreated and forced out of the Kenya Police Service despite suffering life-threatening injuries.
Corporal David Wambugu was then-Opposition presidential candidate Kibaki's bodyguard at the time of the December 3, 2002 accident at the Machakos turn-off on the Nairobi-Mombasa highway.
They and two other people were on their way back to Nairobi in a Range Rover KAH 016G from campaign rallies in the lower eastern region.
The frail-looking Mr Wambugu, 45, has since been in and out of hospitals for injuries in the head, legs and back.
SETTLE MEDICAL BILLS
Then a General Service Unit (GSU) officer stationed at Kilimani Police Station, Nairobi, he had been a guard of Mr Kibaki since 1997.
According to documents filed at Milimani Industrial Court through RA Onchuru Advocates, Mr Wambugu claims that the retired President had volunteered to settle his medical bills due to the close relationship and trust they had.
They are from neighbouring villages in Othaya Sub-County.
Mr Wambugu says then-Nairobi Provincial Police Officer (PPO) Zachary King'ori Mwangi forced him to retire for "nagging" the then-Head of State with hospital bills.
EXTORTING MONEY
He was also accused of extorting money from State House.
Mr Mwangi is a senior assistant inspector-general of police.
"On January 20, 2005 around 16:00 Hours, the then-OCS Kilimani Police Station and Chief Inspector Samuel Otongo and two other police officers came to my residence at Highridge and ordered me to go to the station to see Mr Mwangi," states Mr Wambugu in his petition of 37 grounds.
The former policeman adds that he was taken to Mr Mwangi's office and forced to sign an early retirement letter, failure to which "I would not be safe as far as my life is concerned".
STATE HOUSE
The last hospital bill to be paid was Sh62,000, due to the Nairobi Hospital, in 2004.
The last bill that he submitted to State House was for Sh116,720.
Mr Wambugu recounted: "Mr Mwangi summoned me to office and I moved there fast, on crutches and in dire pain, thinking good news awaited. He was very harsh to me, saying I was disturbing the President. He also said I was not involved in the said accident."
He has named the National Police Service, Mr Mwangi, National Police Service Commission and the Attorney-General as respondents in the case.
SERVICES TERMINATED
The father of four also claims that after his retirement, reports emerged that his services had been terminated for losing a gun in suspicious circumstances, which he denies.
He resorted to being a night guard at a residence in Nairobi, earning a salary of Sh7,000, but quit after his health deteriorated.
He was forced to sell his properties, including land and livestock, to foot his medical bills.
The case was to come up for hearing on March 26 but did not, since the respondents had not filed their responses and it was not in the Milimani Law Court cause list.
The case was adjourned to July 27.
When he suspected interference with the case, Mr Mwangi wrote to Chief Justice David Maraga, seeking his intervention.