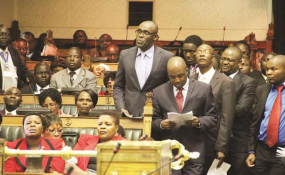 Photo: The Herald
Parliamentarians in the Human Rights thematic committee shed tears of sorrow on Wednesday during the testimony of a young woman who worked in Kuwait as a maid.
The committee summoned 28-year-old Lucia Chibayambuya to share her experiences as a victim of human trafficking.
Although the senators ended up doubting the qualification of Chibayambuya as a victim of human trafficking since she accepted her occupation in the Middle East country before leaving, the female parliamentarians cried together with her as she narrated circumstances surrounding her case before and after Kuwait.
Jobless with five subjects O level subjects, the single mother of one, who also takes care of her ailing widowed mother and two siblings, said she viewed the Kuwait opportunity as "amazing".
"The life we were living was difficult. I just couldn't get a job. We were practically beggars. When I got there I had to work from 5 am until 1 am. They didn't want to see me idle but I endured knowing the problems I had left home," Chibayambuya said tears running down her cheeks.
While some of the 60 women rescued from Kuwait recently claimed sexual abuse, Chibayambuya said she was not subjected to that.
Chibayambuya alleges she responded to a newspaper advertorial posted by an agent called James Maroodza and was interviewed in Harare's Vainona suburb. She worked in Kuwait as a maid for two months receiving $200 per month. Maroodza took care of her travelling needs.
She said she worked in Kuwait between December 2015 and February 2016. Despite the arrangement offering her two years' work, Chibayambuya had to return prematurely after failing a medical examination done in Kuwait before an emigrant can be granted a work permit.
"I was told my bones were not fit for hard work so I had to come back," she said.
The Kuwait based agent who received her processed her return papers.
Two weeks after she landed in Zimbabwe, she was taken in by CID Law and Order, together with her brother Lawrence Chibayambuya (24), on allegations of being accomplices in a case of human trafficking.
After 12 days in remand prison, they were granted $300 bail each, which her mother could only pay after selling their Marondera core house.
"It was a miracle for my family that I had got a job in Kuwait so they testified at church. A girl from church then inquired how I got the job, my brother simply shared the contact of the agent," she told New Zimbabwe in a follow interview.
"From bad to worse... now we have nowhere to stay. We can't even afford transport costs to court. I am just a victim of circumstances! The case has been dragging since March last year and they have my passport, I could have gone to South Africa," Chibayambuya said breaking down again. The family is accommodated by an uncle in Seke.
The committee, chaired by retired major general Mike Nyambuya, pledged to continue investigating cases of modern day slavery.
With unemployment of over 80 percent and over 70 percent households living in poverty, many qualified Zimbabweans have left the country as economic refugees.
While many have become successful contributing to the $1 billion remitted into the country annually, economic migration has also caused family disintegration, while some are killed in exile while others find themselves in prisons for various crimes as they struggle to settle in foreign lands.