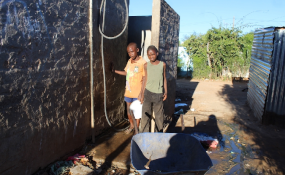 Photo: The Namibian
By Marx Itamalo
THERE seems to be no end to the sanitary woes for residents of the Soweto location at Tsumeb.
The residents are still getting water from toilets, where everybody takes showers and relieves themselves.
The Namibian visited the township on Monday, and what our news crew saw was an eyesore.
There are two public toilets in the township, which also serve as showers, where men and women shower. One toilet is currently out of order after it got blocked by debris and other waste.
The women take showers in the same cubicles with men.
It is in the showers, which also double as open toilets, where people in the location get water for household use.
Apart from the human excreta littering the floor, heaps of household waste lay scattered on the outside of the toilet, emitting a strong stench. Residents complained that they are tired of living under these conditions.
"We are sick and tired of living like this. The municipality has forgotten us. Why can they not give us public taps where people can get water in a clean environment?", asked Lazarus Vanyenga, who said he had spent 20 years in Soweto under the same conditions.
Vanyenga stressed that the situation is worse because even when children or women come to fetch water from the toilets, they find naked men taking showers. It is the men who have to fill their containers and buckets with water.
"Children are exposed to big things. They can watch a man totally naked, and there is nothing one can do about it because people need water," he stated, adding that women also face the risk of being raped.
"Just imagine a woman coming to fetch water at night, and a man who is washing himself has to give her water. It is a big risk, seriously," Vanyenga said.
During The Namibian's visit, children could be seen standing in the corridors of the toilet, watching men showering, while waiting for their containers and buckets to be filled with water.
A boy fetching water was asked if he is not bothered by the sight of the adults taking showers.
"I see them every day. To me, it is not a problem," the boy said while loading his containers onto a wheelbarrow.
Another resident, Maria Shikukumwa, who has been a resident of Soweto since independence, also expressed dismay at the living conditions of people at this location.
Shikukumwa specifically pointed out the rubbish outside the toilets, which she said can cause diseases to residents living nearby.
She stated that the municipality does not pick the rubbish on time, leaving heaps outside the toilets. The area has also become a breeding ground for mosquitoes.
"Look here, do you think people should live like this? The municipality bosses only care about themselves and their families, but not about us," she stressed.
Tsumeb mayor Christofina Kasilingwa yesterday pointed out that all the houses at the Soweto location have prepaid water meters, and those in shacks have standing pipes.
"They do not want to pay for water, which is why they are using water from the toilet. There is no need for them to do that," she said, adding that the residents even got a specially reduced tariff from council.
She thus urged residents to buy water tokens to get fresh water.