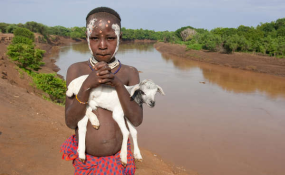 Photo: Survival
By Fasika Tadesse
Covering 400,000sqm, the total investment for the hotel is 150 million dollars
Fretsega Real Estate & Construction has partnered with Dusit International Hotels and Resorts and they are in the final stage of bringing a Dusit Thani resort to Ethiopia, with a 150 million dollar investment.
The agreement was signed three weeks ago after a year-long negotiation between the property developer and the Thailand-based international chain hotel was concluded. Ozzie Business and Hospitality Group facilitated the deal negotiating on behalf of the local property developers.
The Resort will have a total of 358 rooms including 58 bungalows, rooms with a swimming pool and garden, eight meeting halls with a capacity of holding 100 to 1,200 people and a playground for children. It will also feature a spa fitness centre and a wellness centre.
A unique feature of this Hotel will be the area it is going to lie on. The owners of the Hotel have acquired a 400,000 square meter plot of land in Legadadi, Oromia Regional State, 23km from Addis Abeba.
GERETTA Consulting Architects and Engineers Plc created the architectural design of the hotel, Getaneh Retta, general manager of the company, confirms to Fortune. GERETTA engages with architectural design, project supervision and contract administration of projects and it has previously executed the Oromo Cultural Centre, Snap Plaza, the Burkina Faso Embassy and Zefmesh Grand Mall, among others.
The Hotel is expected to be operational after four years, and the construction will be launched in October 2017. Currently, the landscape clearing of the land is underway.
The Hotel will have nine two-storey buildings, and each room will lie on 40sqm.
The main reason that the Hotel owners decided to work with Dusit Thani is the Group's experience and engagement in managing resorts along with hotels, according to a source close to the case.
Dusit Hotels and Resorts was founded in 1948 as Dusit International in Bangkok, Thailand. Currently, the hotels and resorts are operating under four brands: Dusit Thani, DusitD2, Dusit Princess and Dusit Devarana. The Group currently administers 29 properties worldwide. It also has hotel schools, which grant vocational and postgraduate hospitality degrees.
The local property developer Fretsega Real Estate & Construction is owned by four individuals. They came from the US and engage in real estate, and that construction machinery rental business but the company has no online presence so far.
Dusit will be an addition to the 20 international brand hotel deals that have been signed so far. Out of these, six of the global brands are already operational including Radisson Blu, Sheraton, Marriot, Hilton, Wyndham and Golden Tulip. Two years ago, Sunshine Business Plc and Hilton Worldwide signed an agreement to upscale Hilton Hawassa Resort & Spa, which is going to have 168 rooms with a 42 million dollar investment.
The addition of the international chain hotel will raise the number of starred hotels in the city, which has now reached 111 from 58 five years ago.