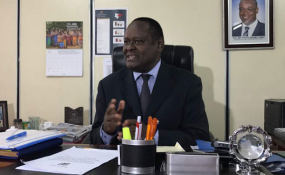 Photo: Eunice Kilonzo/The Nation
By Derrick Luvega
A cholera outbreak has been reported in Vihiga, a day after Nairobi was put on red alert following the deaths of three people in the city.
One person has succumbed to the water-borne disease in the western Kenya county, according to director of health Quido Ahindukha.
2 OTHERS
Two others, Dr Ahindukha said on Friday,were treated and discharged from Kaimosi, the county referral hospital.
The outbreak, the first in the region since July last year, was first reported on Monday.
He said the deceased was diagnosed in Nairobi and then travelled to Vihiga but his condition worsened.
WEDDING
"He was rushed to Kaimosi Hospital where he succumbed to the disease," said Dr Ahindukha.
The county has also dispatched health surveillance team to Kaimosi, Chango and Kigama "because these are the areas where people who travelled to Nairobi for a wedding hail from."
"Some of them have returned and so we must be on high alert," said Dr Ahindukha.
Nairobi was on Thursday evening put on high alert after three people ,who all met and ate at a wedding in Karen on Saturday, died of cholera.
Five others, including a foreigner, are being treated at various hospitals in the city.
400 GUESTS
The victims and patients were part of a larger group of about 400 guests who had attended the garden wedding in the area.
Food had been supplied by an outsourced caterer.
There are fears that the number of sick people could be higher and will likely affect other counties as some of the guests came from Mombasa and Eldoret.
Tana River and Dadaab in Garissa have confirmed cholera cases while Murang'a, a cholera hotspots, is being monitored closely for possible outbreaks.
The Karen newlyweds, who wished to remain anonymous, cut short their honeymoon in Mombasa on Thursday and flew back to Nairobi to visit their ailing relatives and friends.
FOREIGNER
Nairobi County executive committee member for health Bernard Muia confirmed the cases but denied there were any deaths related to the disease.
He said the reported cases were imported from elsewhere.
"I am advised by the county disease surveillance team that the patients admitted to Nairobi hospitals came from western Kenya," he said.
However, this may not be the case, as a visiting German man, Alex Wolf, who attended the wedding alongside his Kenyan girlfriend, was being treated in isolation at Nairobi Hospital for the disease, which has created kidney complications.
Family members who spoke to the Nation suspect their woes came from the food they ate at the ceremony.
There are sketchy details of the hired cateress, who on Thursday refused to comment on the matter.
CATERERS
However, sources close to the company intimated to this newspaper that one of the people who served food at the wedding had been unwell with a stomach infection.
Mr Eric Kibe, the programme director at SafiServe, an organisation that trains food service workers on how to protect consumers from food-borne risks, said Kenyans need to be careful with who makes their meals.
"We are all food consumers and if you bring a caterer to your event, make sure that you have proof of their wellbeing," he said.
"Do they have a food handling certificate, for instance? This certificate expires every six months, therefore, you should watch out for this.