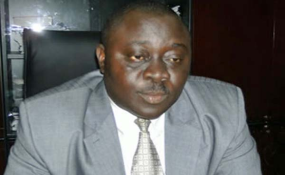 Photo: The New Dawn
By Henry Karmo
Monrovia — Former House Speaker Alex Tyler has described as "fake", the recent endorsement of Vice President Joseph Boakai presidential ambition by 19 sitting Senators.
Rep. Tyler in a Press Conference Thursday, May 18, 2017 questioned whether the Senators have the political clout to transform such an endorsement into votes.
Rep. Tyler said: "Do the Senators realize the crucial role they are expected to play during the impending transition of our country?
Did they consult their constituents whose aspirations they represent? Was the purported endorsement meant for a big bluff or self-aggrandizement? These are simple, but crucial questions they need to answer."
The former speaker who is now in court on indictment of bribery in the Sable Mining /Global Witness case, said before the inception of what is today known as Legislative projects, some of the Senators could not point to any development initiatives that demonstrated and illustrated their interest in transforming the lives of constituents or counties they represent.
"I can inarguably assure you that what some of them boast of today as achievements or development projects in their respective counties are the result of "Legislative Projects" we proposed a few years ago - an initiative that suffered a fierce battle with the President, Vice President and some of the very Senators on the opposing side for fear of the Executive Branch and we on the other" he said.
"If these Senators had interest in decentralized development and supported the 73 million United States Dollars proposal; one million for each Electoral District, which we proffered, there would have been significant social and infrastructural development and improvement in their various counties.
This would have given them the kind of political leverage to make the kind of endorsement they made on behalf of their people which can be construed as fake endorsement," Tyler added.
Not leaving CDC
In response to speculation of defecting from the CDC for another party, the Liberia People Democratic Party (LPDP) political leader who has joined ranks with the likes of the Congress for Democratic Change (CDC) and the National Patriotic Party (NPP) denied media speculation that he was planning on leaving the CDC for another party.
He said he does not only view the speculations as a mere gossip and distraction of his commitment to the people of this country to build collaborations in an effort to narrow choices, but one that is unfounded, vicious and is a brazen attempt to undermine the gains which they as a coalition have made so far and their determination to give Liberians the once in a life time change they deserve.
"This propaganda and spreading of falsehood is being championed by detractors who have chosen to ignore trending and substantive national issues in their continued efforts to focus on frivolities and trivialities."
"Let us make it transparently clear to you and the People of Liberia that we were never coerced nor forced to join the Coalition as others may think; rather, we are one of the progenitors of the formation of what is today styled and named as the Coalition for Democratic Change (CDC).
This is a vision we cherished dearly because this is what the people craved for. In a larger sense, we are founding members of the CDC," he added.
The former Unity Party (UP) lawmaker says he believes in a change that will return Liberia to Liberians, and this change can only be possible through the election of a CDC Government.
"I want to emphatically clarify that I have no plan to leave the Coalition. Before exiting the Unity Party, I sat down and counted the ramifications of my decision.:
"This is why we have accepted to go through various manners of persecution for our belief in the struggle for the total emancipation of our people - a belief that is deeply rooted in the platform of the Coalition for Democratic Change."
"To the Partisans of the LPDP and by extension, mighty Coalition for Democratic Change, we want to salute you all for being steadfast and resolute to embrace the idea that our time to take over the mantle of authority of our country has come. As such, nobody, absolutely nobody can stop us now!" Tyler stated.