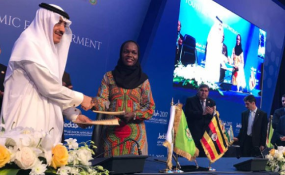 Photo: Daily Monitor
By Jonathan Adengo
Kampala — Uganda Development Bank Ltd (UDB) has received a line of credit worth about Shs95 billion from the Islamic Development Bank (IDB) and Arab Bank for Economic Development in Africa (BADEA) for onward lending to Small and Medium Enterprises (SMEs) in Uganda.
Mr Bandar M.H.Hajjar, the president of the IDB Group and Ms Patricia Ojangole, the chief executive officer UDB jointly signed the financing agreements for Uganda's SMEs.
Speaking after the signing of the $10 million (Shs36b) agreements last Thursday in Jeddah, Saudi Arabia, Ms Ojangole said this is a significant milestone in the bank's strategy to grow liabilities and improve its capacity, to grow enterprises in the private sector. "This will go a long way in widening private sector credit as well as stimulating economic growth and development," Ms Ojangole said.
Signing of these financing agreements was one of the activities of the four-day IDB Group's annual meetings that ended on May 18 in Jeddah.
UDB received $10 million (about Shs36 billion) from IDB and an additional $16 million (about Shs58 billion) from BADEA. This brings the total line of credit to close to Shs95 billion.
Because of such support from government and multilaterals such as the IDB and BADEA, "UDB has steadily registered social-economic impact such as job creation, contribution of taxes paid from UDB-funded projects, foreign exchange and production value of godsend services," said Mr MartinRoy Lukwago, the UDB head of treasury.
UDB is the country's only development bank which aligns itself with the National Development Plan typically looking at specific sectors of development.
Accessing this money
Prospective borrowers will be able to access the funds through the normal processes of getting credit from the bank. The borrowers, too, must have registered businesses with viable plans.