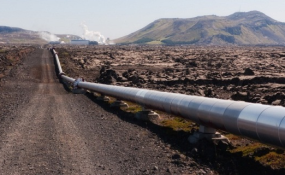 Photo: Daily News
By Rose Athumani
Tanzania and Uganda have put pen to paper, for the construction of a 1,403-kilometre pipeline for transporting crude oil from Hoima to Tanga Port in Tanzania.
Presidents John Magufuli and his Ugandan counterpart, Yoweri Museveni, signed a communiqué to that effect, upon completion of discussions on sections of the contract which will be signed later, to set the project in motion.
Aside from its economic advantages, President Museveni said one of the major reasons that influenced his decision to choose Tanzania as co-host of the pipeline was Mwalimu Julius Nyerere's staunch pan-African patriotism, the push for East African political Federation and fighting tribalism.
He attributed the peace, unity and political stability to that stance, and said, recalling that Mwalimu was the only leader who was courageous and principled enough to allow the OAU Liberation Committee to establish its base in the country over which he presided.
"Some people say there was no tribalism in Tanzania... this is not true, there were very powerful tribal groups here which could have caused problems but Mwalimu was able to contain them. So, his deep sense of patriotism was one of the factors that attracted me.
If he was alive today, he would have been very happy about this," he explained. President Museveni stressed the importance of integrated decision- making on major development projects such as the one taken by Tanzania and Uganda on the construction of the Oil pipeline.
"We have minerals in Uganda but because of fragmented decisions, advantages have turned into disadvantages. We want to build a little power station at Kagera but it is fifteen years now, nothing is in place.
This oil pipeline shows the importance of integrated decision-making. The Chinese have been able to move and become the second biggest economy in the world," he explained.
President Museveni noted that as one of the beneficiaries in EAC we will now be able to compete with Gulf airlines which use their own jet fuel that has no tax or transport costs.
"Maybe the fuel is subsidized by their government which we don't know... they compete with ours which are using imported jet fuels which has all sorts of issues. Africa is huge; we need air transport that uses cheap jet fuel which we will get and be in a position to compete with the gulf airlines," he noted.
On his part, President Magufuli expressed appreciation to Mr Museveni for being instrumental in propelling the project, which signified the solid friendship between the two countries.
He commended experts and government officials from both countries, including ministers and legal experts, who worked tirelessly to iron out bottlenecks that included differences in tax regimes.
Dr Magufuli explained that the project would yield many employment opportunities for Tanzania and Uganda and an avenue for both governments to collect revenue.