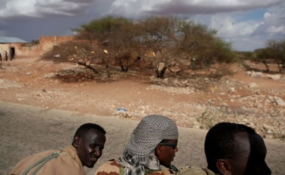 Photo: Shabelle News
By Zephania Ubwani
Arusha — With Somalia's application to join the East African Community (EAC) key on the agenda of the heads of state summit in Dar es Salaam today, analysts have said the Horn of Africa country should be assisted to fix its insecurity issues first.
"Before Somalia is brought on board, it has to be assisted to become safe and stable while strengthening peace," cautioned Sirili Akko, the executive secretary of the Tanzania Association of Tour Operators (Tato).
He said although EAC was keen to expand, it should be careful in admitting new members whose stability is questionable because of the likely insecurity spiral risks.
Somalia has been in turmoil since 1991, hit by decades of conflict at the hands of clan militias. Over the past several years it has faced an insurgency by al Qaeda-linked al Shabaab, which the government is battling with the help of regional troops.
"Like any other sovereign state, Somalia has the right to seek admission to the EAC, but its current security status is still wanting, despite pledges by the recently-elected government," said Mr Akko.
"Insecurity anywhere in the region ends up affecting everyone in the region, particularly the fragile tourism business."
Mr Simon Mapolu, a business consultant, said the EAC should "go slowly" in processing Somalia's application to be bloc because the country was not yet peaceful due to internal conflicts and growing insurgency.
"We (East Africans) have not resolved the problems of Burundi and South Sudan. Somalia is even worse," he said, further arguing that EAC should not be interested in big number of members, but peace and tranquility.
The EAC secretariat announced on Tuesday that the 18th Ordinary Summit of the regional leaders would receive a progress report on the verification exercise for the admission of Somalia into the bloc.
But an official in the Secretariat's communication unit who declined to be named hinted to The Citizen on Saturday that he does not expect the admission of the war-torn country to take place anytime soon.
"What the leaders would go through is the report on Somalia's application. The admission process is rather long, and could take even years even if the leaders acceded to the admission now," he said on condition of anonymity.
Mr Mapolu said because of politically instability, it would be difficult to do business with Somalia. He said the EAC should learn from South Sudan, the newest member of the bloc admitted last year but still entangled in a bloody political turmoil that began in 2013.
Chaos in the world's youngest nation has made it practically impossible for investors from the regional bloc to trade.
Road to peace still bumpy
"South Sudan has a lot of resources but it's road to peace is still bumpy, politically not stable," he explained, "No regional integration can be done without peace."
Somalia applied to join the EAC in early 2012 through an official letter submitted on February 28th to the then EAC chairman, President Mwai Kibaki of Kenya.
Ever since, successive heads of state summits have been insisting on "wider consultations" given the security concerns there. EAC, an intergovernmental organisation revived by Tanzania, Uganda and Kenya in the 1990s, currently has six member states. Burundi and Rwanda became full members in 2007 and South Sudan last year.
In his inauguration speech February, Somalia's new president Mohamed Abdullahi Mohamed, a dual US-Somali citizen, promised his people that the era of al Shabaab and other Islamist militant groups was over.
While his election has generally brought hope that it may be a step further to peace and stability, the East African Community seems to be taking a more cautious route in banking on the widely accepted new leader.
After his election, EAC secretary general Liberat Mfumukeko congratulated the Somali leader only promising that the Community, including its organs and institutions, pledged continued support ,and looked forward to working with him to promote regional integration and development in East Africa"