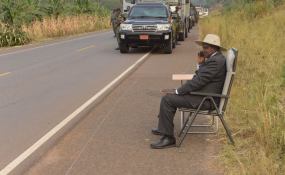 Photo: The Observer
President Museveni has 'agreed' to have the Sim card verification exercise extended by at least an extra 3 months.
Since Saturday last week, May 20, telecoms switched off unverified Sim cards following the expiry of the registration exercise. The registration exercised has been marred with controversies.
Several subscribers have complained that even validated Sim cards were switched off and unverified ones kept on.
Now in a U-turn, Museveni said he has agreed to the extension following appeals from members of parliament of his ruling party, NRM.
Museveni, at the expiry of the May 19 deadline and the passing of a resolution by MPs that extended the deadline by at least a year - that minister of information and communications technology, Frank Tumwebaze defied. Then Museveni said he did not support any extension and asked telecoms to switch unverified Sim cards in the interest of national security.
To verify their Sim cards, Ugandans were required to submit their national identity card number (NINs) while foreigners were required to use their passports.
To avoid the switch off, some subscribers without national IDs have used other people's NINs to register their Sim cards since the process of acquiring IDs had become too cumbersome.
The latest extension is the third following an earlier one-week deadline that was later extended by another month.
Chaired the NRM Caucus today where some MPs appealed for more time for SIM card registration despite the passing of the earlier deadline.
I've agreed to this proposal on condition that the new deadline will be respected. SIM card registration will therefore run until 30/8/2017.
Ministry of ICT and other concerned govt agencies are authorized to allow this new window. I ask Ugandans to take this exercise seriously.