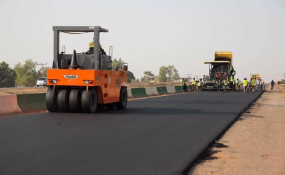 Photo: The Guardian
In the past nine months, the Ethiopian Roads Authority (ERA) completed the construction of six projects with a cost of 5.3 billion Br. This has enabled the Authority to raise the road network by 13,356km to 123,770km, achieving 91pc of the target.
The Dansha to Abdurafi road, an alternative road to Harar, Zarema Maytsbri Sugar Road Project, Sawla-Tako, Belta-Ottlo and Ottolo-Sawla are the projects completed in the past nine months.
Also, there are 32 road projects in the pipeline that are under construction. They are expected to be completed before the current budget year concludes. Moreover, the Authority has signed 28 road projects with local and foreign contractors.
In the same token, 14 new road projects, covering 706 kilometres, have also started this year, with a budget of 12.3 billion Br