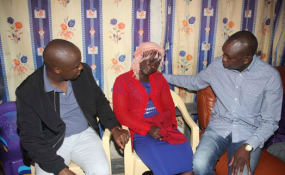 Photo: Jared Nyataya/The Nation
By Titus Ominde
A case on the murder of three children of Kapsoya MCA aspirant James Ratemo has been postponed following a request by the State Counsel.
Mr Zachary Omwenga urged an Eldoret court to give them more time to amend the charges.
He said they are collaborating with other State agencies due to the magnitude of the case.
He said his application was informed by preliminary findings, which indicate that the children were murdered as opposed to an earlier charge.
The suspect, Mr Enoch Onsase who is a brother to Mr Ratemo, had earlier been accused of abduction.
Mr Onsase did not take plea following the request from the State prosecutor.
Magistrate Charles Obulutsa granted the request and directed the suspect appears in court on June 6.
The three children had been missing before they were found dead in River Nzoia.
Police said investigations has established that the children were murdered somewhere else before being dumped in the river.