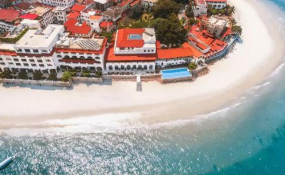 Photo: The Citizen
By Syriacus Buguzi
Dar es Salaam — US-based hospitality company, Marriott International, yesterday inked an agreement with hotel investors in Zanzibar to build a luxury villa resort on the Indian Ocean Archipelago.
The 90 room all-suite and villa resort, to be located within a 45-minute drive from the Zanzibar International Airport, is slated to open in 2021, according to information obtained from the Zanzibar hotel investors under a British firm, Pennyroyal Gibraltar Limited.
Dubbed, the Ritz-Carlton, Zanzibar, the villa resort is expected to provide easy access to tourists yearning to visit Zanzibar's UNESCO World Heritage Site located in Stone Town.
The signing of the agreement took place at a ceremony attended by the hotel owners, Mr. Saleh Said and Mr. Brian Thomson who are Directors of Pennyroyal Gibraltar Limited and Mr Alex Kyriakidis, President of the Middle East and Africa, Marriott International, alongside other executives from both companies.
According to the President of the Middle East and Africa, Marriott International, Mr Kyriakidis, Zanzibar has the potential to strengthen its position as a key leisure destination in the Indian Ocean and to effectively compete with the more established islands of Mauritius, Seychelles and Maldives.
He said, "The Ritz-Carlton, Zanzibar will compliment Marriott International's strong presence in the Indian Ocean and provide the necessary impetus to put the destination on the global itinerary of our guests."
For his part, the investor from Zanzibar, Mr. Saleh Said said, "... coupled with Marriott International's strong base of loyal guests, [the villa] will entice the affluent travelers to visit this enchanting destination, making it one of the most coveted resorts in the region."