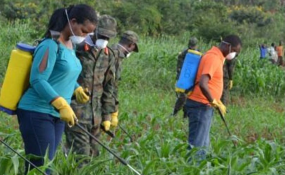 Photo: K. Rwamapera/The New Times
analysis
By Mojisola Ojebode and Ariong Moses
Farmers are reacting to an infestation of an insidious pest - the fall army worm - by indiscriminately spraying their crops with whichever combination of chemical fertilizers are available. The pest is ravaging staple food crops like maize, rice, wheat and millet in eastern and southern Africa and threatening food security of millions of people.
The outbreak was first reported in 2016 in a few countries like South Africa, Nigeria, Togo and parts of Uganda, and is believed to have come from South America in agriculture products. The pests were quickly found to be resistant to locally used pesticides and have destroyed thousands of hectares of crops in South Africa, Zimbabwe, Zambia, Malawi, Mozambique, Uganda, Ethiopia, part of Nigeria and several other countries in sub-Saharan Africa. Farmers have turned to whatever chemicals they can find to fight the worm.
Governments are rightly worried about the infestation, especially amidst an ongoing hunger crisis caused by prolonged drought and climate change effects. South Africa and Uganda have been particularly aggressive in purchasing agro-chemicals, which kill the pest through contact or by entering the plant and later poisoning the larvae.
But as our fields are being sprayed, we should be deeply concerned about the effects of the continued use of chemical pesticides to our environment and health. Several studies have shown a relationship between chemical fertilizer use and cancer when the chemicals are taken up by plants and eventually eaten. One study found a significantly increased risk of childhood brain tumors (CBT) among children whose parents had farm related pesticide exposure during pregnancy. A similar finding by SEARCH international brain tumor studies in nine countries revealed that exposure to inorganic pesticides is related to CBTs.
In the understandable rush to stop these pests using whatever chemical fertilizers are available the terrible health and environmental hazards that farmers and children could face are being overlooked.
This threat from chemical fertilizers isn't new. Despite the research on health hazards from chemical pesticides, the pesticide trade continues to grow. The production of inorganic pesticides doubled from one million metric tons to two million metric tons between 1965 and 2000 (that is 327 grams or .72 pounds of inorganic pesticides per person in 2000). Recent studies on the sale of chemical fertilizers show that global spending on agro-chemicals rose from $44 to $48 billion USD between 2011 and 2014.
Although 75 percent of pesticides are used in the developed world, their use in developing countries is steadily increasing. The fastest growing markets are Africa, Asia and South America, where regulations chemical fertilizers use are weak and the risk to the environment and human health are even greater.
As an agricultural professional from Uganda who has works with farmers to improve their methods and a Nigerian biochemist working to develop organic, plant-derived pesticides, we find it sickening that "dirty" pesticides that are banned in developed countries—like Endosulfan, DDT, Glyphosate, Linden and others—are still being used in countries like Uganda. Many of these are on the World Health Organization's list of banned chemicals and blacklisted by the Stockholm Convention on Persistent Organic Pollutants due to their long term effects on environment. Meanwhile, those who profit from this use are the leading pesticide manufacturers, mostly based in US and Europe.
The fall army worm outbreak is an opportunity to not only strengthen environment laws and their implementation, but also a call to explore and advance the use of organic, environmentally-friendly pesticides.
We know that organic sprays can deter pest attacks and kill the pests when used with crop management practices like preparing the fields by removing old crop stalks, alternating crops, or using natural fertilizers to keep the soil healthy. Farmer-led research trials have shown that spreading ash on the plants or sprinkling cow dung extract on to the leaves of the plants stops moths and butterflies from laying eggs on maize or legume crops. These preparations have little to no harm to humans and the environment but work against pests to in many cases increase food production. However, we need more research to refine the organic preparations.
Governments across Africa must develop pest management strategies through collaboration with researchers and experts on organic pesticides. We need the safe option to be the most effective and affordable.
In the meantime, to deal with the current infestation, farmers in rural communities where most of these outbreaks occur should be educated on the danger of indiscriminate use of pesticides and the appropriate dosage for chemical products.
Alternative tools for pest control in Africa have the potential to safely provide lasting solutions to the huge losses suffered as a result of pest attack. This is particularly important if Africa is to produce enough food to feed a world facing the current population explosion.
Ariong Moses (@ariongm) is a Ugandan food security expert and project specialist agriculture innovations at One Acre Fund Uganda and alumni of the Global Health Corps Fellowship. Mojisola Ojebode (OjebodeMojisola) is a Nigerian biochemist and the founder of Moepelorse Bio Resources and a Global Innovation through Science and Technology (GIST) awardee. Both are 2017 Aspen New Voices Fellows.