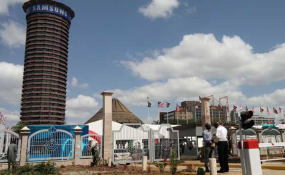 Photo: File photo/The Nation
column
By Larry Madowo
Kenyans love meetings, workshops, seminars and other ways to waste time discussing without committing to anything.
So we hold a lot of those all over the place to pass time until the next payday, to spend some of that donor money, to make it look like we're working, or for no reason at all. So you would think that we would be the best at taking that quirk, blowing it up and then putting together monstrous meetings. As it turns out, South Africa hosts more professional association meetings in the continent than any other country.
In 2016, the "Rainbow Nation" hosted 125 meetings, with Morocco coming in a distant second with just 37, according to the International Congress and Convention Association (ICCA). Kenya ties with Rwanda and Egypt in third place with 18 meetings each. "To be included, meetings must be organised by associations, be held on a regular basis, have at least 50 delegates, and rotate between at least three countries," the ICCA explained in a blog post.
I was looking through the report because I've spent all this month attending exactly these types of meetings in Durban, Kigali and Frankfurt. The last one, IMEX, is actually a meeting about meetings. It describes itself as "the worldwide exhibition for incentive travel, meetings and events" and takes place at the expansive Messe Frankfurt complex.
The Kenyatta International Convention Centre had its biggest stand yet, hoping to grow its pie of the meetings, incentives, conventions and exhibitions (MICE) segment in Africa.
"We're targeting 20,000 to 30,000 business visitors per month in Kenya," Nana Gecaga, the KICC boss told me. "Every delegate spends the equivalent of Sh376,000 in the country, so you can imagine the impact if you multiply that by 10,000."
The play here is to brand Kenya as a preferred destination for a new travel trend called "bleisure", a combination of business and pleasure.
RENOVATING KICC
"A business visitor who enjoys their stay is likely to come back with their family for a holiday," Kenya Tourism Board (KTB) boss Dr Betty Radier told me.
Apart from the iconic KICC, there are facilities such as the Pride Inn Paradise Beach Resort and Convention Centre in Mombasa, but there is still a massive shortage of high-quality space in Kenya.
Rwanda is cashing in after opening the $300 million (Sh30.9 million) Kigali Convention Centre and the adjoining Radisson Blu Hotel. That is why Kenya expects to break ground on a new Sh11 billion Nairobi Convention Centre at the Bomas of Kenya before the end of the year. The financing is not all locked in yet and the Ministry of Tourism confirmed that it was talking with various partners to work out how exactly it will be funded and managed.
Principal Secretary Fatuma Hirsi says a task force on forming a Kenya Convention Bureau has already completed its work and should be set up soon. A convention bureau would actively market Kenya as the place to hosting meetings, pitch to international organisers and provide information on infrastructure, hotels and other service providers. It will be hosted at KTB before it can stand on its own feet. South Africa has several bureaus for its main hubs of Johannesburg, Cape Town and Durban, and Rwanda also has one.
In the meantime, KICC will shortly begin renovating its meeting rooms and modernising its offerings to compete better. It might have been state-of-the-art in the '70s and '80s, but now the years are starting to show and it is not exactly the crown jewel it once was.
Everyone remembers how the Kenya African National Union (Kanu) famously used the building rent-free and got evicted only when President Mwai Kibaki took power, even though it claimed to have the title deed for the property.
In fact, it was current Jubilee Party Secretary-General Raphael Tuju who signed the executive order removing the independence party from the premises when he was information minister in 2003.
Uhuru Kenyatta had just lost his first run for President on a Kanu ticket. It is now run as a parastatal that is also in charge of marketing conference tourism to the country by President Kenyatta's niece.
Ms Gecaga, who was confirmed as CEO at the beginning of the year, appears to have weathered the nepotism controversy when she was named to the role and says it has become "95 per cent corruption-free" since she took over.
Maybe what it should consider is modelling itself alongside Messe Frankfurt, "the world's largest trade fair, congress and event organiser with its own exhibition grounds". The firm employs an unbelievable 2,400 people in 30 locations and its annual sales are in excess of Sh74 billion.
Just like KICC, which is fully government-owned, Messe Frankfurt is 60 per cent owned by the city of Frankfurt and 40 per cent by the State of Hesse. Seeing as we already love meetings, we might as well exploit that peculiar habit and profit from it.
*****
JIMMY GAIT'S TEARS
Your cyber bullying hurts real people
Nobody prepares you for the criticism that comes with being in the public eye.
Celebrities have to learn that the hard way. In the age of social media, my boss often says, even the lowest of people can reach you directly and hit you with their mean or nonsensical opinions. Nobody has been on the receiving end of that deluge of disapproval like gospel star Jimmy Gait over the past year and a half.
It hit fever pitch when he released his much ridiculed 'Yesu Ndiye Sponsor', which he has since deleted from his YouTube page. "My music is about real life as a Christian, that's what I try to bring out in my songs," he explained on #theTrend. "I've been singing for nine years, I've done so many good songs for people but people forgot all that and they were insulting me. I really felt bad. This one song made them feel that I am trash, I got hurt."
Even after that heartfelt confession on the impact of cyber bullying, several Kenyans still made fun of that. Some shameless Kenyans will do anything just for a couple of retweets or shares on social media, regardless of how it affects real people.
******
SENSATIONAL CANADIAN
Somebody stop Justin Trudeau already!
The man who has caught the attention of the world since Barack Obama left the regular global stage is Canadian Prime Minister Justin Trudeau. He can do no wrong and every moment captured on camera instantly becomes a viral sensation. The latest happened when he inadvertently "photobombed" a group of students doing a photoshoot for their prom. He was jogging along the seawall at Vancouver's Stanley Park.
"We were just taking photos and hanging around talking, and then Trudeau, he just comes running," one of the students, Constantine Maragos, said. Whether he brings his son to work or explains a complex concept, the man can do no wrong.
"Pictures of Trudeau posing with people during some kind of outdoor activity have become so frequent that one would be forgiven for wondering if they are a specific tool in the prime minister's publicity arsenal," wrote RT.
Even better, the man speaks in complete sentences in both English and French!