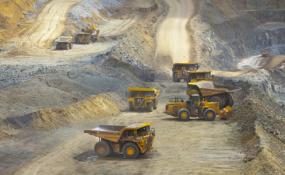 Photo: The Citizen
President John Magufuli is this morning scheduled to receive the much awaited report on the amount and value of the mineral sand containers exported since 1998.
The special committee which President Magufuli formed and tasked with the investigations on the mineral resources will present its report to the Head of State at the State House in Dar es Salaam.
Several government leaders are expected to attend the event, which will be beamed live on television and radio stations as well as State House official website.
Two probe teams of 16 experts were formed on April 1 and 10 consecutively, with the first committee comprised of eight experts in geological, chemical and scientific backgrounds while the second drew its eight members from economy and law.
Acacia Mining Plc, the leading gold producer in Tanzania, issued a press release on March 24, detailing that the first team inspected over 200 of its export-bound mineral sand shipping containers in Dar es Salaam and also visited its Bulyanhulu and Buzwagi gold mines in Shinyanga region to analyse other gold and copper concentrate containers stock- piled at the mines.
The gold mining firm said following President Magufuli's directive to ban exports of gold and copper concentrates ef- fective March 3, 2017, it had ceased all exports of mineral sand, including the 277 con- tainers in the Dar es Salaam port and inland container de- pots
. The containers had been approved for export prior to the ban.
Mining contributes 3.5 per cent to the country's gross do- mestic product, Africa's fourth- largest gold producer, but the government wants the sector to pay more taxes.
Like other African nations, the fifth government phase has been on a drive to add value to its exports rather than send raw materials abroad.