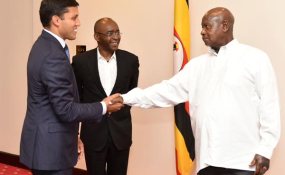 Photo: PPU/Daily Monitor
By Frederic Musisi
Entebbe — President Museveni has asked the Rockefeller Foundation to support Uganda in the development of a solar-powered irrigation system affordable to smallholder farmers boost food production capacity.
The President made the call yesterday during meeting with a delegation from Rockefeller led by its president Rajiv J. Shah, at State House, Entebbe.
"Uganda Government is fighting against ticks in livestock. Our target is to have vaccines against tick-borne diseases developed. We shall be pleased if you could support us in this effort. If we can vaccinate, we shall have the capacity to protect the livestock without using acaricides," Mr Museveni was quoted in a statement issued by his press team.
If supported on the irrigation system, Mr Museveni said, Uganda will increase production of indigenous foods. According to the statement the president stressed the need for Uganda to modernize and commercialize her indigenous technology.
The solar-powered irrigation system was unveiled early this year by scientists at Makerere University's College of Agriculture and Environmental Sciences (CAES) working together with a team from University of Purdue, US, who had invented a similar irrigation system mainly for farmers in Africa to adopt.
Its system includes a 100-watts capacity solar panel, a rechargeable battery and solar-powered pump. The connection is done from the panel, which generates energy to the battery and to the solar pump where water pipes are connected to a water source.
The advantage of the system is that a farmer can disconnect the system from the battery and use the solar pump for a period of three hours. This can be done on a cloudy day when there is no sunshine. The same applies to using the battery minus the solar pump.
The President also rallied the New York based philanthropic organisation, with an estimated fortune of Shs14 trillion ($4b), to support government research centres.
The Foundation already has presence in the country and has been supporting several initiatives among others the Uganda Virus Research Institute. Last year the organisation extended a grant of $1m (about Shs3.3b) for innovations from Africa, including Uganda, which can provide a solution to the short shelf life of cassava in order to enhance food security on the continent.
Dr Shah, the Rockefeller's president, explained that they invest in finding solutions to various challenges particularly those affecting poor people. Already, he said they have been funding the improvement of African indigenous foods such as millet and sorghum.