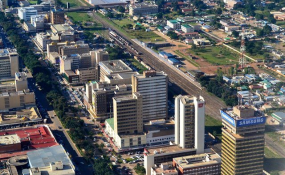 Photo: Lusaka Times
By Clement Malambo
Minister of National Planning Lucky Mulusa and his team have identified Ngabwe in Central Province as the new site for the country's new capital city.
Mulusa has announced that a proposal to select Ngabwe as the new capital city is ready and will be submitted to Cabinet for consideration.
When appointed as minister, Mulusa embarked on a strategy to establish future plans that will help decongest Lusaka.
Lusaka has over the years grown with its population increasing at a fast pace over the years. According to the last census, the population in one of southern Africa's fast growing states was estimated at 1.8 million people.
Experts say the population in Lusaka has grown to over 2.5 million and is soon to breach the 3 million mark.
Mulusa says there was no proper planning for Lusaka to hold its current population.
He said says the Ministry of National Planning was going to present to Cabinet a request to go ahead and do feasibility studies of the new capital city.
Mulusa says his ministry had devised a plan to come up with a new capital city that would be able to compete with other African cities.
"When you look at Lusaka in the next 10 years, the city will not be able to sustain us. The rate at which commerce and industry and official activities are growing cannot be met with Lusaka's ability to grow its capacity.
"Human settlement on its own is a problem and that is why my ministry is proposing that we start up a completely new capital city that will be planned on the modern principles of sustainable development," he said.
Mulusa said Ngabwe, west of Kabwe, was an ideal location for the capital city of Zambia because it was more central than Lusaka and it was easier to start building a city from scratch.