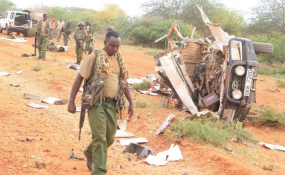 Photo: Manase Otsialo/The Nation
By Nation Team
Nairobi — Nine police officers died in two separate terror attacks in Mandera and Garissa on Wednesday when their vehicles were blown up after running over explosives.
Five officers in the Mandera incident were in a convoy escorting the county's Governor Ali Roba to a political rally when their vehicle exploded after running over a landmine in Fino.
In Garissa, four Administration Police officers died while two others suffered injuries when their vehicle hit a landmine near Kulan Dam in Liboi on Wednesday morning.
The police officers were travelling on the Liboi-Milan Road in a vehicle belonging to the Kulan Administration Police Post when they hit the explosive at 6am.
Three died on the spot while another one succumbed as he was being taken to Dadaab Sub County Hospital.
Three other police officers - Dennis Mwachiru, Titus Mwangi and Peter Gakuo - were unhurt. Police Constable Nahashon Omondi was injured and is undergoing treatment.
Interior Cabinet Secretary Joseph Nkaissery said: "This menace still remains. We must be vigilant at all times to secure our citizens, especially in the North. Though there are incidents where officers lost their lives, the response was commendable".
BLAME AL-SHABAAB
The North Eastern Regional Coordinator, Mr Mohamud Saleh, blamed al-Shabaab for the attack, and said that planting explosives on the road was becoming the militants' new tactic as they target security forces.
"They have resorted to planting explosives as they find it difficult to carry out attacks because security has been beefed up on the border and in nearby towns," Mr Saleh said.
Mr Saleh said that police and other forces would continue with security operations.
He said a multiagency approach was being employed to determine the reason behind the increasing number of attacks targeting public servants.
He also said contingents of police officers had been sent to the area to flush out militants.
"We are pursuing these attackers and are exploring local criminal elements who are assisting al-Shabaab. We will bring to book all those responsible," he said.
Mr Saleh blamed some businessmen in the area, saying they were funding the terror group as they had been benefiting from sale of contraband goods.
He said the businessmen were trying to give the impression that the Liboi-Dadaab Road is not safe in order to stop reopening of the border.
EIGHT KILOMETRES
The cabin of the police vehicle, registration number GKA 894Q, was destroyed and detached from the trailer, throwing the eight officers to the ground. The attack happened eight kilometres from their station.
Sources within the police service said those who died included Inspector Issak Aden, Constable Osman Yussuf, who was driving the vehicle, Constable Oliver Ochieng' and Constable Yussuf Osman.
The attack comes just a day after Inspector General of Police Joseph Boinnet warned that members of the terrorist group had sneaked into the country and were planning attacks.
In a statement, Mr Boinnet said the terror group was behind a series of attacks, including a recent raid in Mandera in which a chief was killed.
He said the police were on high alert and asked the public to be vigilant and report suspicious people to the police.
Last week, a vehicle transporting miraa was blown up by an explosive device suspected to have been planted by al-Shabaab militants on the same route, killing all four occupants, among them a one-year-old baby.
Report by Abdimalik Hajir, Manase Otsialo and Stella Cherono.