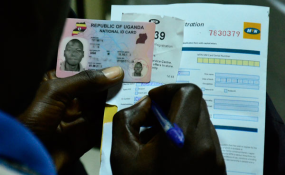 Photo: Daily Monitor
editorial
Now that the President has ordered for an extension of the SIM card registration deadline, it is imperative that all mobile phone owners who had not, for one reason or another registered, should embrace the opportunity and respond positively.
On Monday, President Museveni ordered an extension of the exercise after meeting ruling National Resistance Movement MPs at State House Entebbe although telecoms were yet to receive the official communication and enforce the order.
The President in a series of tweets said the ruling party lawmakers had petitioned him to give people more time to comply with the government directive.
According to Uganda Communications Commission, at least 18 million SIM cards of the 22 million in use have been verified, meaning at least four million subscribers had not submitted their National Identification Numbers (NINs) by the time telecommunication companies MTN, Airtel, Vodafone, K2 and Africell, among others enforced UCC's directive to switch off users last month.
On average, National Identification Registration Authority (NIRA) issues 700 to 1,000 NINs per day to Ugandans, including those who registered as early as 2014, according to Mr Gilbert Kadilo, the manager public relations and corporate affairs at NIRA.
The extension of the deadline should as well allow those whose phones were switched off after being verified; time to contact the concerned authorities for correcting the anomaly.
It is such an inconvenience to have to suffer the eventualities- considering the number of important calls and business plans that you might have missed. But this is even good ground for one to rush to have their mobile phones rectified ahead of the deadline. When this is done early enough, you will have ample time to have details verified conveniently instead of waiting for the last minute rush that often attracts long queues. This is also true because of the belief that not many Ugandans are good at observing deadlines, a reason UCC was insisting on the May 19 deadline. Let this be the last extension.