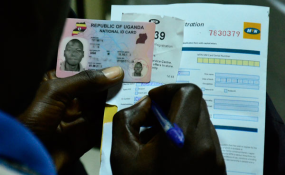 Photo: Daily Monitor
By Stephen Kafeero, Isaac Imaka & Moses Kyeyune
Kampala — Despite the latest three-month deadline extension ordered by President Museveni, millions of Ugandans still risk not having their SIM cards fully registered or verified by the end of the exercise in 102 days, Daily Monitor can reveal.
According to Uganda Communications Commission (UCC), at least 18 million SIM cards of the 22 million in use have been verified, meaning at least four million subscribers had not submitted their National Identification Numbers (NINs) by the time telecom companies MTN, Airtel, Vodafone, K2, and Africell, among others enforced UCC's directive to switch off users last month.
On average, National Identification Registration Authority (NIRA) issues 700 to 1,000 NINs per day to Ugandans, including those who registered as early as 2014, according to Mr Gilbert Kadilo, the manager public relations and corporate affairs at NIRA. At the current rate of issuance of a maximum of 1,000 NINs everyday, NIRA will have issued only 102, 000 NINs to Ugandans in President Museveni's 102 days extension. But this predicament can only be offset when government significantly boosts the operations of the NIRA, which is tasked with the validation of the SIM cards.
President Museveni, on Monday night, ordered an extension of the exercise after meeting ruling National Resistance Movement MPs at State House Entebbe although telecom companies were yet to receive the official communication and enforce the order. The President in a series of tweets said the ruling party lawmakers had petitioned him to give people more time to comply with the government directive.
"I've agreed to this proposal on condition that the new deadline will be respected; SIM card registration will therefore run until August 30, 2017," he said.
ICT and National Guidance minister Frank Tumwebaze had on last Friday defied a resolution of Parliament to have the deadline extended by at least a year to give chance to all Ugandans to register before the switch off.
"The Executive is at liberty to work on Parliament's resolutions as it deems fit and applicable. Resolutions of Parliament are not court orders to government, some call them advisory," Mr Tumwebaze said last week.
The minister, who was speaking at the Government Media Centre, explained that the concerns of Parliament had been addressed in the measures government was taking during the switch off, including leaving the Mobile Money service on but restricted.
But his comments and subsequent defiance of the Parliament's resolution angered the Speaker of Parliament, Ms Rebecca Kadaga, who on Friday ordered Mr Tumwebaze to appear before the Rules, Privileges and Disciplinary Committee over "contempt of Parliament." Prime Minister Ruhakana Rugunda later told Daily Monitor that Mr Tumwebaze was acting on behalf of the government.