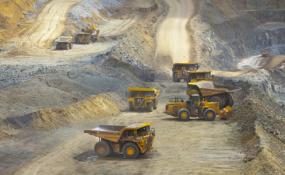 Photo: The Citizen
By Alawi Masare
Dar es Salaam — Tanzania's leading gold miner, Acacia Mining, has maintained that it declares everything it mines in the country even as a presidential committee reported that it discovered discrepancies in ratios of gold, copper and other minerals in mineral sand held at Dar es Salaam Port.
The committee, which presented its report to President John Magufuli yesterday, reported that it discovered an average of 1,400 grammes of gold per tonne of mineral sand in containers, while the Tanzania Minerals Audit Agency (TMAA) indicated an average of only 200 grammes.
The committee also reported disparities in copper and silver ratios, while no royalty was paid for other compounds like iron, sulphur, rhodium, iridium and lithium despite their being smelted from the concentrate.
The committee stated that Acacia had not fully declared minerals contained in the concentrate, and recommended that the ban on export of metallic mineral concentrates be maintained until the issue was resolved.
But the firm denied any wrongdoing.
"Acacia reiterates that it fully declares everything of commercial value that we produce and pay all appropriate royalties and taxes on all of the payable minerals that we produce," the company said on its website yesterday.
Acacia earlier said it had cooperated fully with the committee, but its report and findings were not shared before they were presented.
In March, President Magufuli directed that 277 containers of metallic mineral concentrates that were set to be shipped out be held at Dar es Salaam Port pending verification of minerals they contained.
Dr Magufuli appointed two committees to investigate the matter. The first committee, made up of academics and industry professionals, investigated contents of the concentrate packed in containers and presented its report to the Head of State yesterday. The second team, which comprises economists and lawyers, focused on the economic impact of exporting the concentrates, but has yet to present its findings.
Experts react
Economic experts said Tanzania faced an uphill task of overhauling the mining sector to curb what the presidential committee said were massive losses incurred as a result of allowing mineral concentrates to be shipped out of the country.
They called for change in the mining policy, regulations and institutions that oversee the mining sector and investment in smelting technology.
"The committee has confirmed what I have been saying all along- that mining firms don't take out of the country mineral sand, but actually minerals. The President should go further and overhaul the mining systems - from policies, regulations and institutions - to ensure that Tanzanians own, operate and manage their resources," said Prof Haji Semboja of the University of Dar es Salaam.
"People will be shocked in the short term, but the mining sector will be stable and beneficial to Tanzanians and the economy in the long run."
Prof Honest Ngowi of Mzumbe University Business School said the losses had made it difficult for the government to provide quality and efficient social services, and called for proper investment.
"This is a wake-up call for Tanzania to invest in smelting facilities, power and transportation systems. Local processing should not only involve mineral concentrates, but also agricultural produce like cashew nuts and coffee in order to maximise benefits for Tanzanians."
Kigoma Urban MP Zitto Kabwe, who is also party leader of the opposition ACT-Wazalendo, praised the committee's report, adding that he expected the President to overhaul the mining system in Tanzania to ensure that Tanzanians benefited fully.
"It is my hope that the President will consider recommendations contained in ACT-Wazalendo's Tabora Declaration and those of the Bomani Committee, which are meant to ensure that Tanzania and Tanzanians benefit from minerals mined in the country," he said.
He listed some of the proposals as transparency in mining contracts and state ownership of mines in which investors were regarded as contractors.