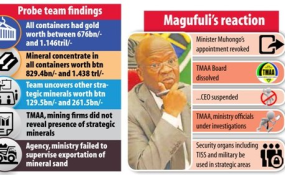 Photo: The Citizen
By Rose Athumani
Tanzania has been losing trillions of shillings in revenue; a committee formed by President John Magufuli to investigate the amount of copper and gold contained in mineral sand and its value has revealed.
The probe team has also recommended that the government reinforces ban on mineral sand exports until the right royalties are paid to the State, while investigations and legal steps are taken against employees involved.
The probe committee revealed that all minerals found in the 277 containers including gold, silver, sulfur, cop- per and strategic minerals are worth between 829.4bn/ and 1.438trl/-.
Presenting the report find- ings before President Magufuli at State House in Dar es Salaam, yesterday, the Probe Committee Chairman Prof Abdulkarim Mruma said his team unearthed huge quantities of gold concentrate in the mineral sand investigated at between 671 gram per tonne and 2, 375 gram per tonne, an average of 1,400 grams per tonne, meaning 28kgs of gold in one container weighing 20 tonnes of mineral sand.
"So, using this average measurement of 671grams per tonne the 277 containers detained at the Dar es Salaam Port and dry port contains between 7.8 and 13.16 tonnes of gold worth 676bn/-," he explained.
Using the higher measure- ment which is 2, 375 grams per tonne, Prof Mruma said a 20-tonne mineral sand container will have 47.5kgs of gold meaning the 277 detained containers will have 13,157.5 kgs worth 1.146tril/-, "Therefore, the amount of gold found in the 277 containers is worth between 676bn/- and 1.146trl/-."
Prof Mruma explained that the committee received reports from TMAA and mining companies showing that the mineral sand had an average of 200grams per tonne, meaning 4kgs per container. "Comparing the 4kgs with the average of 28kgs of gold, you'll find that this is a big difference.
Therefore, the 277 containers will have 1.2 tonnes of gold worth 97.5bn/-. This is small amount compared to the value unearthed by the investigation, of between 676bn/- and 1.146trl/-.
This huge difference shows there are huge loses of government revenue and prob lems in computing royalties paid to the State," he stressed.
The committee also revealed that there were strategic minerals present, which were not identified in the list of exported minerals by both TMAA and mining companies worth between 129.5 and 261.5bn/-
The committee recommended that the government should ensure that smelters are constructed in the country as soon as possible, to process the mineral sand which will allow identification of all minerals present in the mineral concentrate.
It also recommended that TMAA, should seal the mineral concentrate containers immediately, to control cheating, after the sample have been taken for testing and for the mineral agency to test and identify all metals present in the mineral sand, which will also help in computing government revenue.
"TMAA should also identify all minerals present in a mineral concentrate container regardless of what is given by the mining company in transportation documents, which will be useful not only to the government but also to the owner who will know the type of minerals present," Prof Mruma explained.