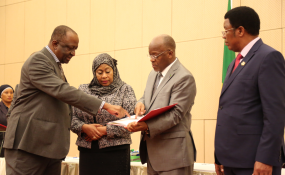 Photo: Fadhili Akida/Daily News
By Rose Athumani
President John Magufuli, yesterday, fired the Minister of Energy and Minerals Prof Sospeter Muhongo, dissolved Tanzania Minerals Audit Agency (TMAA) Ministerial Advisory Board (MAB) and suspended the agency's Chief Executive Officer (CEO), Eng Dominic Rwekaza, following mineral sand probe team's report that revealed sickening thievery architected by mining firms and crooked leaders.
President Magufuli issued the directives after receiving a report on mineral sand investigations from a probe team he formed in March this year, to investigate the amount of minerals present in the sand, exported abroad and its value at State House yesterday.
Dr Magufuli directed security organs including the Prevention and Combating of Corruption Bureau (PCCB) to immediately investigate all employees under TMAA and Ministry of Energy and Minerals involved, including former Mineral Commissioners for legal actions.
He also directed that security organs, Tanzania Intelligence and Security Service (TISS) and if possible the military as well, should effectively be used in all strategic areas.
"I like Prof Muhongo a lot, he is my friend, but in this issue he should reflect on it and assess himself and without delay I would like him to step down," Dr Magufuli painfully stated, noting that all recommendations by the probe team will be implemented.
President Magufuli, however, went on to revoke the Minister's appointment later in the day.
The President's directives follow massive losses of trillions of shillings, exposed by an eight-man probe team of experts led by Prof Abdulkarim Mruma to investigate and establish the amount of minerals and its value, contained in mineral sand exported abroad.
The probe team comprised experts in geology, chemicals and scientific analysts."We are in a war, an economic war which is even worse.
You are today (yesterday) witnessing the billions of shillings our country is losing," he stressed, noting that the amount of gold per tonne found in the mineral sand, according to the report is between 671 - 2,775 grams, translating to between 7.8 tonnes to 13.16 tonnes for all 277 containers detained at the Dar es Salaam Port.
"If we take 23.1 tonnes as the weight of the container as opposed to the standard 20 tonnes, you find that there is 15.5 tonnes of gold in all 277 containers, which translates to two lorries and one pickup truck loads of gold, imagine that," President Magufuli stressed.
He explained that although there is another committee looking into how many containers of mineral sand have been exported so far, reports show that between 250 to 300 contain-ers of mineral sand are shipped per month, which adds to more than 3,600 containers annually.
"So, we are waiting for the other committee to complete its work, whose findings will base more on how many containers so far have been exported and regulatory changes.
But this is painful, very painful and shameful. I think on this issue Tanzanians need to unite," he stressed.
Dr Magufuli pointed out how the government struggles to address challenges facing the public in all sectors including education, health and infrastructure while revenue that would have helped alleviate the problems is lost through exportation of mineral sand.
"We don't have enough drugs, medicines and beds in hospitals...our schools do not have enough classrooms, we have to appeal for contributions to make school desks, while on infrastructure we run around borrowing money to build railway lines when there is a lot of money getting lost here," the visibly pained President said.
In his directives, President Magufuli said the TMAA CEO is being suspended for recklessness in managing the minerals and ordered the security organs including PCCB to investigate everyone else involved and take legal action.
"We cannot have employees who have been educated using public funds but work to fulfill their own interests, forgetting the broader interest of the nation.
We should from now onwards use our security organs, TISS and if possible the military in strategic areas," he explained.
He added: "I know the security organs have understood what I am saying. You can form a task force and ensure all our wealth with regard to minerals is not appropriated."
The President faulted some Tanzanians tasked with supervising the mineral sector, who are not keen in protecting the interests of the nation by conducting meticulous investigation before sealing containers.
The President pointed out that the reason he sacked Energy and Minerals Permanent Secretary, Prof Justine Ntalikwa was due to unintelligent answers he issued when legislators wanted to know the amount of gold in the minerals sand, where he said it's only 0.02 grammes.
"It's a shame for Tanzanian, who has been educated through public funds to give such answers. According to him, this means the 277 containers had less than 200 grammes per tonne while the report shows 2,375 grammes per tonne.
So, about 2,175 grammes of gold was left unrecorded," he stressed. "They also did not re- cord other strategic minerals some whose value is as high as gold as well as cop- per, silver, iron.
We would have been a donor country from all these minerals God has blessed us with," he explained.