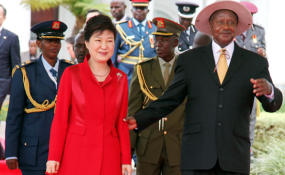 Photo: Stephen Wandera
By Sadat Mbogo
Mpigi — The South Korean government has officially handed over to the government, a multibillion facility in Mpigi District meant to train farmers in modern agricultural practices.
The National Farmers Leadership Centre (NFLC) is located in Kampiringisa village, Kamengo Sub-county in Mpigi District.
Speaking during the hand over of the facility to the government on Tuesday, the South Korean Ambassador to Uganda, Park Jong-dae, asked the local leaders to maintain the facility, continue cooperating with South Korea and support all programmes brought to transform the socio-economic well-being of Ugandans through practising good governance, monitor and maintain development projects.
"We have handed over to you this special project, but I wish you maintain it well to help and train our farmers. I would like to appeal to our local leaders to monitor this initiative and continue cooperating with us for good service delivery in our communities," he said.
The centre was officially opened last year by President Museveni and the then President of South Korea, Ms Park Geun-hye.
It was established to transfer Korean technology and rural transformation experience based on mind-set change, training and a new movement of developing communities called Saemaul Undong model.
Agriculture minister, Vincent Ssempijja, who was the chief guest, said NFLC is a vital institute in the life of rural transformation and commended Korea International Corporation Agency, which supervised construction works, for a good working relationship. He advised farmers to work hard through self-help and acquire more agriculture training sessions at the centre in order to acquire more knowledge to increase their productivity.
At the same event, Ms Amelia Kyambadde, the minister for Trade and area Member of Parliament, said agriculture transformation in the country moves at a slow pace but tasked farmers to embrace mechanised agriculture if they need meaningful growth and development.
"Agriculture is the backbone of our economy, but it has retarded because we are still using rudimentary technologies such as cultivating using simple hoes. If we are to modernise the sector, we need to go mechanical, not subsistence and let us encourage youth to engage in agriculture too," Ms Kyambadde said.
For sustainability of NFLC, a steering committee headed by Mr Pius Wakabi, the ministry of Agriculture permanent secretary was set up to oversee, monitor and supervise the institute.