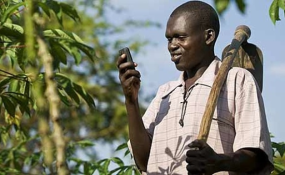 Photo: Daily News
By Alex Malanga A
Dar es Salaam — Commercial banks' credit to the private sector is growing at a snail's pace, with agriculture, construction, transport and communication being hardest hit.
In what explains that banks are increasingly taking a vigilant approach to lending as they seek to control rising levels of nonperforming loans (NPLs), the Bank of Tanzania (BoT) shows that the personal loans segment - which has always ranked highly in terms of the amount of loans issues by lenders - registered a negative growth rate during the year ending March 2017.
The sector registered a negative 4.9 per cent growth rate. As such, its share of total loans stood at 17.5 per cent from 19.7 per cent registered during the year ending March 2016, according to BoT's latest economic review.
The growth rate for agriculture - which contributes about a quarter of the total value of all goods and services produced over a specific time period - (gross domestic product - GDP) slowed further to negative 9.2 (-9.2) per cent. This sent the sector's share of total loans to 6.8 from 6.9 per cent.
Similarly, the transport and communication sector emerged as the most affected one in the banks' cautious lending approach. The growth of loans to that particular area sank to negative 21.6 (-21.6 per cent).
As for the building and construction sector, the growth dropped badly to negative 3 (-3.0) per cent during the year ending March 2017 from 9.7 per cent during the year ending March 2016.
Analysts say there are several factors to explain why lenders preferred certain sectors to others in their lending decisions especially this time around when the resources are increasing become scarce.
The factors include liquidity challenges facing banks, unpredictability of some sectors, increase in NPLs and the fact that some tenders in certain sectors are taken by foreign investors who do not depend on loans from local banks.
"This situation demonstrates that the barrier to lending is due to a lack of liquidity in banking ... .With liquidity challenges, it becomes increasingly difficult for banks to issue loans to large projects such as those in transport and communication," TPB Bank corporate affairs and communication head Noves Moses told The Citizen.
Similarly, construction sector could also be suffering because it requires much more funds than what would be required by other industries.
"Similarly, a majority of large construction projects - such as those for roads and other mega construction projects - are undertaken by foreign investors/contractors who do not depend on the local financial system to do the jobs," she said. As for agriculture, she said, it is purely due to the sector's unpredictability nature.
"There is a higher perception of non-repayment due to sector-specific risks, such as production, price and market risks," she told The Citizen.
This is due to financial institutions' lack of knowledge on how to manage transaction costs, agriculture-specific risks and how to market financial services to agricultural customers. Mzumbe University economics professor Honest Ngowi shared similar sentiments, saying with increasing NPLs, loans conditions can only be tight.
"To cut a long story short, the situation is not healthy not only to the banking sector but also to the country's economy at large," noted Prof Ngowi.
His sentiment was echoed by a business expert, Dr Donath Olomi, who said the move would slowdown the level of economic development.
"This would not only limit investment in concerned sectors but also, it has a negative multiplier effect on other sectors and hence narrow the scope of employment opportunities," noted Dr Olomi.