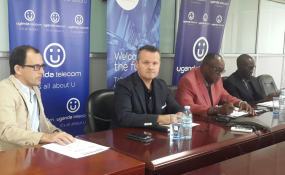 Photo: Mark Keith Muhumuza‏/Twitter
By Sadab Kitatta Kaaya
A parliamentary committee investigating the management and performance of Uganda Telecom Limited has submitted a report that sheds light on why the mobile telecommunications company was brought down to its knees.
However, even before the report is tabled before Parliament, one legislator, Busongora North MP William Nzoghu, has broken ranks over some of the recommendations in the report, which he says "are weak."
Nzoghu has written a minority report calling for the investigation of Uganda Communications Commission (UCC) executive director, Godfrey Mutabazi, over alleged conflict of interest in his private business dealings with UTL.
The findings from the select committee's investigation indicate that most of UTL's woes were caused by the Libya African Portfolio (LAP) Green, the telecom outfit's majority shareholding company owned by the Libyan government.
LAP Green held 69 per cent shares while Uganda held 31 per cent, which the committee said tilted the power dynamics in favour of the former. For instance, said the committee, the shareholder agreement, as well as the technical assistance and commitment agreement (TACA), gave the majority shareholders immense decision-making powers in the parastatal.
"The management team hired under the TACA was inexperienced and incompetent, lacking basic corporate management skills," the report states.
Yet, despite their shortcomings, the UTL bosses were on exorbitant salaries, with the managing director taking home $28,000 (about Shs 100.8m) monthly while nine other managers bagged an average monthly salary of $25,000 (about Shs 90m) each.
POINT OF CONTENTION
Among other issues, the committee investigated Mutabazi over alleged conflict of interest in his dealings with UTL. The committee found that Mutabazi has business interests with Semliki Dairy and Beverages (U) Limited, one of the companies that traded with UTL. He owns 30 per cent shares in Semliki, which supplied polythene bags, plate art work and design materials to UTL, while his wife is a majority shareholder with 60 per cent shares.
A one Mugarura Taremwa holds the company's other 10 per cent stake. After its investigation, the committee decided Mutabazi had not committed any offence and recommended that no action should be taken against him.
However, Nzoghu, part of the 10-member select committee put in place on December 1, 2016, insists that Mutabazi must be held accountable for his part in the UTL mess.
The committee, chaired by Okin Ojara (Chua West), also had Michael Tusiime (Mbarara Municipality), Lillian Nakate (Luweero Woman), Paula Turyahikayo (Rubabo), Paul Akamba (Busiki) and Thomas Tayebwa (Ruhinda North).
The main report was signed by five MPs while Nzoghu and an unidentified MP abstained. In his minority report, Nzoghu states, "I strongly observe that Mr Godfrey Mutabazi breached Regulation 4.6 on conflict of interest of the [Uganda Public Service] standing orders by doing business with UTL, a company in which the government owns 31 per cent shares, yet he is a public officer by virtue of him being the chief executive officer of a commission created by an Act of Parliament."
In an interview, Mutabazi confirmed that he owns the company but added no law stops him from doing business.
"That is a private company; it is not UCC. There is no law that stops me from trading. The only company I can't own in accordance to Sec- tion 10 of the UCC Act is one that deals in com- munication materials," Mutabazi said.