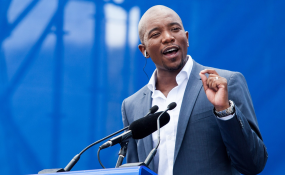 Photo: Democratic Alliance
By Peter Adamu
South Africa's opposition leader Mmusi Maimane has staged a protest at the Zambian Embassy in Pretoria a day after he was deported from Lusaka.
Maimane, the Democratic Alliance leader, is protesting the incarceration of Zambian opposition Hakainde Hichilema who has spent a month and two weeks in a Zambian prison for alleged treason which is a non bailable offense.
Maimane attempted to visit Hichilema but was deported without alighting from a plane on Thursday at the Kenneth Kaunda International Airport.
The opposition leader flew to Zambia to offer solidarity at Hichilema's trial currently underway.
Maimane says there is no democracy in Zambia. He has demanded the unconditional release of Hichilema.
His supporters are currently outside the Zambian Embassy chanting "Free HH" slogans.
Maimane has has told Zambians through a LIVE broadcast on his facebook page to "say no to alleged dictatorship.
He has accused President Edgar Lungu of being a dictator.
Hichilema and 5 others are appearing in court today 12:00hrs.
Meanwhile, some Zambians in South Africa have mobilised themselves to support President Edgar Lungu.