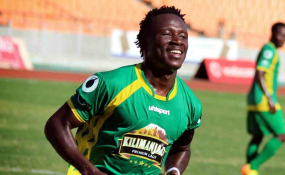 Photo: Daily News
MAINLAND Premier League 2016/17 top scorer Simon Msuva is among three Young Africans players banned from the league by the Tanzania Football Federation (TFF) Disciplinary Committee, for assaulting a match official.
Yanga will miss the services of Msuva and his colleagues Deus Kaseke and Zambian striker Aubrey Chirwa, who have been penalized for attacking referee Ludovic Charles during the game against Mwanza side Mbao FC, which they lost 1-0.
TFF Media and Communication Officer, Alfred Lucas said yesterday in Dar set Salaam that the three players have been banned to feature in the league pending further decision from the committee on the matter.
Msuva , Kaseke and Chirwa are said to have attacked the match official, for what they considered to be unfair officiating and favouring their hosts Mbao during their game held at the CCM Kirumba Stadium in Mwanza last Saturday.
The federation has also issued a strong warning to the referee, for failure to manage the match. TFF also slapped Yanga with a 5.5m/- fine for various disciplinary charges during the league matches. Yanga have been fined a total of 2m/- for not utilizing the dressing room during their games against Toto African and Mbeya City, which were held at the National Stadium in Dar es Salaam.
Furthermore, both Yanga and Mbeya City have been fined 500,000/- for not using the official door to enter into the stadium during their May 13th clash.
Yanga will as well have to pay 1m/- for not utilizing the official door at the CCM Kirumba Stadium during their match against Mbao. The club will also have to pay another 2m/- for not using the dressing room and displaying witchcraft beliefs during the game which ended with a 1-0 in favor of Mbao.
Meanwhile, Yasinta Amos reports from Arusha that record 27th Mainland champions Young Africans arrived in Arusha from Dodoma, ready for their friendly match against AFC Arusha at Sheikh Amri Abeid Memorial Stadium tomorrow. Secretary of the Yanga branch in Arusha, Dietrich Kateule said after the match against AFC, the champions will travel to Manyara for yet another friendly match.
He said the team takes a breather today with a visit to the Mirerani Mining Hills of Simanjiro. AFC Arusha Chairman Charles Mnyalu said that Yanga's visit and related matches are part of the events to commemorate the 23rd Anniversary of the AFC, a team which was formed back in 1994 here.
"We invited and actually expected many teams to take part in the celebrations but it seems a number of them could not make it, mostly due to financial constraints backed with lack or sponsors," said the AFC chairman.
Apparently the planned 23rd AFC Anniversary Bonanza had to be shelved and the team will just play against Yanga as efforts are being put in place to ensure that in few weeks' time the sporting bonanza can be organized again.
"We have enlisted 40 players who are in camp, ready to face Yanga, but most important, to be in better position for the Second Division League (SDL) so that the AFC can restore its lost glory," said the team official.
Yanga's trip to Arusha follows in the footstep of their arch-rivals, Simba SC, which a few weeks ago also came to Arusha and played against Madini FC. Simba won 1-0.