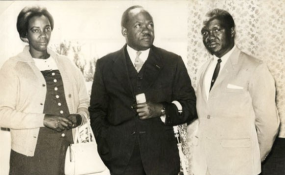 Photo: The Observer
By Abalo Irene Otto
Uganda's oldest political party, the Democratic Party (DP), is set to start the construction of a multi-billion shilling headquarters in Kampala, its president general, Norbert Mao, has said.
Speaking to The Observer in Gulu municipality on Thursday, Mao said construction of the building will start in July this year. According to Mao, DP has allocated more than Shs 6 billion towards the construction of the five-storied structure on a land secured by former DP leaders in Lubaga division.
Mao added that the building will be named after the late Ben Kiwanuka, the first president general of DP, which was formed in 1954.
The decision to name the DP headquarters after Kiwanuka was taken by the party's National Executive Committee (NEC) "to honour the country's first prime minister for his contribution to good governance during his tenure in office."
"We have completed payments for acquiring the land title before the groundbreaking in July. Our members can then access the various offices from a central point," he said.
According to Mao, this is one of the initiatives under his leadership to rejuvenate the party. In the recent past, DP has been torn apart by divisions, which has resulted in different factions allied to particular leaders engaging in protracted fights for control of the party.
Mao said the construction of a permanent home for DP will boost the administration of the party, since all leaders can be accommodated in a centralized location and all decisions taken after consultations with all representatives.
Without indicating how long the construction will take, Mao added that the party will dedicate a floor to the women league leadership, another floor to the youth and other offices for the executive leaders.
DP leaders in northern Uganda have welcomed the move. Justine Obol, the local councillor for Laroo division in Gulu municipality, who was voted into office on the DP ticket, said the party is focusing on institution building so that Ugandans can begin to take the party seriously.
"DP as a party cannot think of taking power from the government without a serious headquarters. It's one of the reforms that we are glad the party is taking into consideration," he said.
REGIONAL OFFICES
DP has also embarked on opening regional offices, with the latest being the Gulu office located on Plot 23 along School road in Pece division, Gulu municipality. The day-to-day management of the office is currently handled by an administrator.
Francesca Amony, the DP Women's League secretary, is optimistic that the general elections of 2021 will offer the opposition party the best chance yet to improve its fortunes in elections.
Currently, DP has 15 members of parliament in the 10th Parliament.