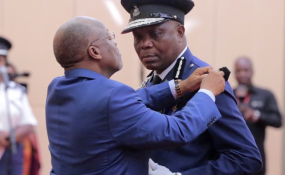 Photo: Daily News
Dar es Salaam — President John Magufuli has revoked Ernest Mangu appointment as Inspector General of Police (IGP).
He has appointed Commissioner Simon Sirro to replace him, according to a statement from State House.
Until his appointment, Sirro was serving as commander of the Dar es Salaam Special Police Zone.
Chief Secretary, Ambassador John Kijazi said in the statement that Sirro will be sworn in at state House tomorrow morning.