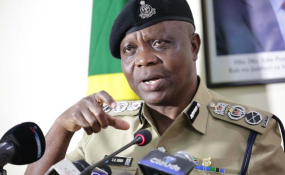 Photo: Daily News
Dar es Salaam — Former Dar es Salaam Special Zone Commander Mr Simon Sirro has been sworn in as the new Inspector General of Police in Dar es Salaam today. Mr Sirro is replacing Mr Ernest Mangu who will be assigned other duties.
Mr Sirro was appointed as Dar es Salaam Special Zone Commander in January 2016, taking over from Mr Suleiman Kova. He becomes the tenth post-independence police chief in Tanzania.
His predecessors are Mr Mangu, Mr Saidi Mwema, Mr Harun Mahundi, Mr Soloon Liani, Mr Philemon Mgaya, Mr Samuel Pundugu, Mr Hamza Aziz and Mr Elangwa Shaidi.