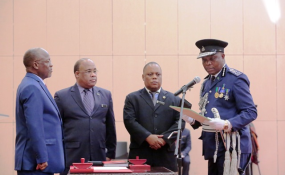 Photo: State House/Daily News
Newly installed Inspector General of Police (IGP), Simon Sirro, has declared an all-out war on criminal elements operating the Coast region now rocked with near-serial killings of police officers and other public within.
The new IGP said at the Magogoni's State House in Dar es Salaam yesterday -- immediately after he took the oath of office -- that the Coast region would be his 'first port of call' as he embarks on the onerous task to unravel the dastardly murders in Kibiti and Rufiji districts, which share - between them -- the deaths of over 30 innocent people.
Mr Sirro took his oath before President John Magufuli at a colourful ceremony that was also attended by Vice-President, Samia Suluhu Hassan and Chief Secretary Ambassador John Kijazi.
Others in attendance were Acting Chief Justice (CJ) Professor Ibrahim Juma, Internal Affairs minister Mwigulu Nchemba, Deputy Attorney General Gerson Mdemu, Permanent Secretaries and top leaders of the security machinery, among others.
Dr Magufuli dropped former IGP Ernest Mangu on Sunday, leaving unanswered the key question: why he opted for Mr Sirro. In the meantime, a statement from the Directorate of Presidential Communications quoted the Chief Secretary, Ambassador John Kijazi, saying that Mr Mangu, 58, would be assigned other duties.
There was no mention of reasons behind the changes at the helm of the police force but speculators link the removal of Mr Mangu to the spate of killings of police officers and CCM leaders within the Coast region.
Several police officers and ruling party leaders have since died in the hands of unknown people, whose motive behind the assassinations also remains mysterious.
With the rank of Commissioner of Police (CP), and Commander of Dar es Salaam Special Zone prior to his new brief, Mr Sirro yesterday pledged he "would leave no stone unturned" even as he also 'promised' to visit Rufiji and Kibiti districts immediately, all in a bid to assess the situation and work out how best the law enforcers could bring all the shadowy criminals to book.
During an interview with journalists at the State House grounds, Mr Sirro said that, for the police force to deal decisively with criminals in the Coast Region, it was equally important that area residents came out and lent support by volunteering information that would lead to their arrest.
"Without participation of the people ... this war against these criminal gangs would be difficult ... but we need to bring this (Coast) region to order," he said, adding that the people need to volunteer 'tip-offs' to the law enforcers so that the criminals could be brought to justice.
"I do understand that we're currently facing a security challenge in Kibiti and Ikwiriri districts ... but I want to assure residents in the Coast region that we are also well-prepared ... what's important is that we all collaborate in this... ,"the new IGP noted.
Mr Sirro further asked all rank-and-file within the police force to rally support across the country, so that peace and harmony were maintained. Above all, he touted for discipline and professionalism by all law enforcers.
His predecessor, Mr Mangu who also attended the swearing-in ceremony, asked Tanzanians and police officers countrywide to accord the new IGP ... his successor .. all necessary support so as he could discharge his duties effectively.
"The good news is that he is an experienced man in this profession, he understands all the challenges that the country is facing ... and I believe he will perform well," said Mr Mangu, visibly jovial. Judging by his mood, Mr Mangu cut an image of 'a happy man' in his immaculate uniforms - both during and even after the swearing-in ceremony.
Acknowledged that there was a high rate of criminal activity within Coast region, he noted that Tanzanians had never experienced anything like it before, but added that he had confidence in the newly appointed IGP ... that he would continue with the efforts that he had earlier initiated to bring the region into order.
Mr Mangu was appointed IGP on December 31, 2013 by former president Jakaya Kikwete to replace the then IGP, Said Mwema, who had attained retirement age. Prior to his appointment, 58-year-old Mangu was director of criminal intelligence at Police Headquarters.