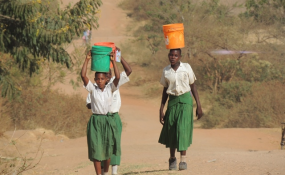 Photo: Anne Robi/Daily News
By Sylivester Domasa
Dodoma — School girls from low-income families are still skipping classes for want of sanitary products - prompting lawmakers and civil society organization (CSO) leaders to plead with the government to increase its capitation grant for education partly to retain those girls who cannot afford protection during their menstrual cycles.
The chairman of the Parliamentary Committee on Gender, Health and Community Development, Mr Peter Serukamba sounded his considered counsel yesterday as an 'aside' of the International Menstrual Hygiene Day (MHD), putting up a spirited plea for increased funding for schoolgirls via the capitation grant.
The money, he said, would bring back to class "a large number of school girls" now rendered incapable of continuing with education and, as a result, opt out of school - from sheer embarrassment.
The capitation grant was adopted in 2002 when the government re-introduced free primary education alongside its equally novel Primary Education Development Programme (PEDP).
The education capitation grant policy involves the allocation of $10 (22,000/-) per pupil, but observers say it has since never been followed at some schools where the hapless girls are left to fend for themselves or, at worst, quit school altogether.
"Teachers and education executives must oversee the implementation of capitation grant to the fullest," Mr Serukamba avers.
Plan International Tanzania UMATA (Usafi wa Mazingira Tanzania (Sanitation and Hygiene) Programme Director Ms Nyanzobe Malimi said a number of schools across the country were now allocating capitation grant for schoolgirls. "I can confirm to you some schools are yet to start allocating the money ... this seriously affects girls' academic performances," she said.
The officer who has led a number of sanitation and hygiene initiatives in Dodoma region said her organization had since come up with new approach through training schemes for the schoolgirls, their parents as well as teachers on best practices on how to make artificial sanitary pads.
"Most of the pupils were using 'wretch' cloth ... which could help protect themselves for a mere three hours, or less, then the clothes degenerate ... become unsanitary and uncomfortable when applied," she observed.
Dodoma-based schoolgirls, Nasra Hamadi and Damalistica John who attended the event told reporters a number of their fellow students were forced to quit schools just after their first menstrual cycle.
Her sentiments were shared by Dodoma Regional Administrative Secretary (RAS) Ms Rehema Madenge, who represented the Regional Commissioner (RC) Mr Jordan Rugimbana, admitting that "several pupils were forced to drop out of school due to little knowledge, or sheer ignorance -- about MHD.
"Girls must be educated ... beginning at home right through school. They also need to be given friendly facilities to keep them protected during their entire cycle," she said, adding, "cases of school drop-outs and early marriages are a result of little, or total lack of, education to the affected schoolgirls."
The education sector in Tanzania has gone through a number of major reforms -- until recently when the current administration of President John Magufuli resolved to send capitation grants directly to the beneficiaries (schools).