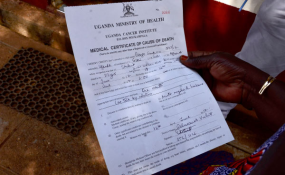 Photo: Alex EsagalaDaily Monitor
By Lilian Namagembe
Kampala — The children's cancer ward in Mulago has received a total of $10,000(about Shs36.2m) to help out in the medical check-ups and buying the medication for the children whose guardians cannot afford it.
The money was offered by Zep-Re insurance company as they marked 25 years of service in various African governments and opened their offices in Kampala last week.
Dr Joseph Lubega the head Paediatric Oncologist at the institute appreciated the boost, saying that with such donations they are able to buy most of the essential drugs which are out of stock and parents cannot afford to buy them.
"As much as the services here are free, sometimes we find that we don't have some of the medication needed and yet it's very expensive and most patients cannot afford it," Dr Lubega said asking other private companies and the government to come in to offer any kind of help to save life.
Dr Lubega also cited the late presentation of cases often when too ill and in need of life support to survive, inconsistent access to chemotherapy, high cost of staging scans, understaffing of skilled nurses and low pediatric oncologist numbers as the major challenges facing the children's ward.
While handing over the cheque to the institute, Ms Hope Murera the managing director of Zep-Re insurance company as a regional institution, they are committed to giving back to societies of the region and helping as and when they can to supplement the efforts of local initiatives.
"Healthcare is one critical area that ZEP-RE believes can benefit from our partnerships with local initiatives such as UCI to help resolve the myriad challenging health problems that afflict the region,"Ms Murera stated.
According to statistics from the Kampala cancer registry, 145 children in every million, below 15 years, in Uganda are affected by cancer.