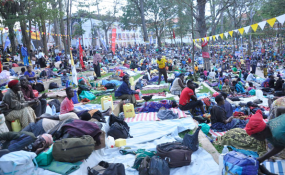 Photo: Daily Monitor
By Joseph Kato
Kampala — With only two days to Martyrs Day celebrations, security has already been tightened at both Catholic and Anglican shrines at Namugongo.
There are dozens of security men donned in different attires manning security at the entrances and exits at both shrines. For instance, from Kyaliwajala roundabout to Sonde trading center, there several patrol cars deployed to secure hundreds of pilgrims trekking to the shrines.
Kampala Metropolitan police commander, Frank Mwesigwa, described the already deployed officers as a drop in the ocean saying more deployments would be made before June 3rd celebrations.
Mr Mwesigwa said police and its sister agencies have prepared a force of 11,000 covert and overt security men to ensure that the martyrs day celebration go uninterrupted.
"We are going to deploy a force of 11,000 officers both in overt and covert operations. This is a joint force because we anticipate threats of terrorism and we want to cover all the avenues that could be used by saboteurs," Mr Mwesigwa said while addressing the media at security command center set at catholic shrines.
Mr Mwesigwa said the covert officers' main role shall be gathering intelligence and arresting any group that would be planning to inconvenience the pilgrims before, during and after the celebrations.
"We expect a bigger number of pilgrims like it has always been and we want to avoid cases of theft, rape, murder and robbery. We want to ensure pilgrims' safety," Mr Mwesigwa said.
Last year's celebrations ended on a bad note when an eight year girl who was vending maize at night was raped by a 21 year old youth who disguised as a maize buyer.
More than 150 people were arrested over involvement in criminal activities such as theft of mobile phone, wallets and vandalism. Others were arrested over causing chaos by turning themselves into public nuisances.
Police have said several units and squads among others; bomb squad, fire and rescue, canine and snipers have already been stationed at different strategic areas in Namugongo.
Security authorities in collaboration with Hoima Catholic Dioceses the hosts of this year's celebrations have established two units were children that would have disappeared from parents shall be picked.
"The sniper team will be deployed at all storied buildings in Namugongo and its surroundings. We shall visit all the hotels and lodges around to get details of visitors," Mr Mwesigwa said.
Police have cautioned the pilgrims not to move with sharp objects as these may be satisfying reasons to deny them access to the shrines. Police have also urged the pilgrims to obey the security rules put in place warning that it shall not hesitate to arrest anyone who shall violate the day's rules.
Mr Mwesigwa urged pilgrims to walk in groups to avoid being knocked on the road but also avoid being targeted by criminals. To ensure the pilgrims' safety to and from Namugongo, police have put ambulances and motorcycles that would be patrolling the roads.
Fr Jude Semambo, the spokesperson of the organizing committee, said over 700 foreign pilgrims were expected to arrive at the shrines starting Wednesday evening. He said they had received confirmation from pilgrims from among other countries Nigeria, Israel, UK, USA, Kenya and Tanzania.
"We urge the VIPs and VVIP to arrive in time so that they don't cause confusion when the service is underway. The service will begin at 9:00am and we expect all invited guests and pilgrims to be in by that time," Fr Semambo said.
Police have urged the pilgrims to call Toll Free numbers in case of any problem while at heading to or from Namugongo shrines. Catholic shrine 0800300107, Anglican shrines 0800300108, fire brigade 0800121222, terror alert 0800300900, traffic 0800199099, medical 0800200000 and Air wing 0800300114.