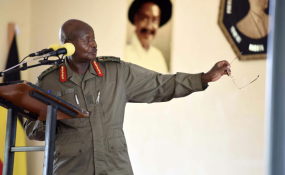 Photo: Daily Monitor
By Scovia Atuhaire
Kasese — Amidst the havoc wrecked by the HIV/Aids scourge for the last 24 years, Ms Rehema Aryema is counting double blessings.
She has accepted her status and within the 24 years she has lived with the deadly disease, she has been able to give birth to an HIV-free child, who is currently in Primary Four and enjoying good health.
Nine years ago, Aryema walked into the labour ward of Kilembe Mines Hospital unsure about the fate of her baby.
She had been attending antenatal clinics throughout pregnancy and the health personnel had given her advice and medication to reduce the risk of passing on the virus to her baby.
However, the medical workers had alerted her that there was no guarantee that the baby would be HIV negative since the interventions were not 100 per cent effective.
"I'm happy that my child is very healthy and strong because when I became pregnant, people laughed at me that I would produce an HIV infected child because I had publicly declared my status," says Aryema, who is now a member of the National Community of Women Living with HIV /Aids (NACWOLA), in Kasese District.
Aryema was so excited about her success that she decided to become a crusader for prevention of mother-to-child HIV/Aids transmission (PMTCT).
Since 2008, she has constantly been encouraging pregnant women to go for checkups at health facilities so as to produce HIV negative babies.
"If you are pregnant, you need to inform your doctors because they have some types of antiretroviral drugs which will help you to produce an HIV free baby," says Aryema.
Aryema, however, appeals for the extension of HIV-related services closer to the people, more especially those at the landing sites.
She says people living with HIV/Aids at the landing sites in Kasese District have a challenge of accessing services because some of the health facilities in their localities are not accredited to offer HIV/Aids services.
They only depend on outreach centres.
"We are appealing to the district to accredit some health centres to offer HIV/Aids services because some people are missing, more especially those at the landing sites of Hamukungu and Kasenyi who depend on out reaches from Kagando," Aryema says.
She adds that there is need to sensitise people living with HIV/Aids on locally available and affordable food for good nutrition.
"People should be encouraged to eat foods within their localities like avocados, yellow bananas, pineapples and many more," she says.
She also underscores the need for health workers to exercise professionalism while handling people living with HIV/Aids.
"Health workers should exercise the principal of confidentiality while handling people living with HIV, they should not disclose their information because it scares them, some of them don't want to be open," says Aryema.
In 1999, medical researchers discovered that giving ARVs to pregnant women could significantly increase the chances of producing an HIV negative baby. That research formed the starting point for the PMTCT programme currently implemented countrywide.
Ms Faith Makombo Kwebaze, the coordinator of NACWOLA in Kasese, says 40 per cent of the women living with HIV/Aids in the district are on antiretrovirals and have given birth to HIV free babies.
Mr Poto Ndyomugyenyi, the secretary general of people living with HIV/Aids in Kasese, says men should be encouraged to embrace the PMTCT programme, adding that the male involvement is very low.
Ndyomugyenyi says according to available information at their offices, the number of men accompanying their wives for antenatal care services is less than 30 per cent.
"The number of men who go to get tested for the HIV with their spouses is less than 30 per cent. That calls for sensitisation of men on the importance of PMTCT," Ndyomugyenyi says.
"The male involvement is very low, most men have not yet embraced the PMTCT programme. They don't go to health centres with their wives during pregnancy," Ndyomugyenyi adds.
According to the Kasese District health officer, Dr Yusufu Baseka, the PMTCT programme has registered tremendous success in combatting the transmission of HIV/Aids from mothers to their children.
Baseka says the number of women testing for HIV/Aids while pregnant has increased in the last quarter this financial year.
"As a district, we are performing well under the PMTCT programme. Out of every 100 births only two or four are born with HIV," Baseka adds.
Baseka says with the increased awareness, the PMTCT programme has raised hope for people living with HIV/Aids.