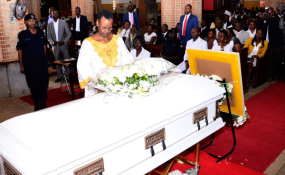 Photo: Alex Esagala/Daily Monitor
By Damali Mukhaye
Kampala — Education minister and First Lady yesterday eulogised Lawrence Mukiibi, the late director of St Lawrence Schools and Colleges, as a patriot who set the pace for excellence in private education in the country.
Speaking at a requiem Mass at Rubaga Cathedral in Kampala, Ms Janet Museveni said the late educationist provided a shining role model by creating wealth, providing jobs and serving his country. Mukiibi, 69, died suddenly on Sunday at Norvick Hospital in Kampala.
Ms Museveni said while she served as minister in hard-to-reach Karamoja sub-region, Mukiibi readily offered 10 annual scholarship to the needy and also lifted the weak through free education, thus cementing his legacy in national memory.
"It is true that Uganda has lost a great son; a patriot who loved his country and took pride in it. He taught his students to be true nationalists, loved his government and served it with one heart. He gave free education to the underprivileged and he must be remembered for the good deeds," Ms Museveni said.
Earlier in a statement upon receiving news of the passing of Mukiibi, Ms Museveni described him as a pioneer, pillar and good manager of private schools who transformed private education and inspired many academics to found their own educational institutions.
But she noted that when people die, the properties and the legacies they have built also die with them. She urged the bereaved family to work hard and ensure the institutions Mukiibi has left behind prosper and continue serving the nation.
"My prayer to God is that his family will not betray his ideas that he lived and served. That his work will not suffer like we have seen happen time and time again when people who have done so much depart from this life; you see what they have blossomed for is destroyed," Ms Museveni said.
Kabaka Ronald Muwenda Mutebi, also praised Mukiibi's great contribution towards the kingdom.
In his speech that was presented by Buganda culture minister Dennis Walusimbi, the king said Mukiibi loved Buganda Kingdom and will be remembered for his great contribution to education in Buganda and the entire country. Meanwhile, the Catholic church also mourned Mukiibi, lauding him as a disciplined Christian who loved the Church.
Kampala Archbishop Cyprian Kizito Lwanga described Mukiibi as a person of integrity and generosity who always put God first.
"The late was generous and always gave to the needy and underprivileged children in the country. He has been paying fees for the needy at his schools and helped the Church generously whenever we needed help," Archbishop Lwanga said.
At the same Mass, the archbishop entreated the Education minister to block the East African Community Bill seeking to legalise abortion.
"If passed into law, this Bill will turn the entire East African Community member States to legalise abortion and impose the use of contraceptives on all citizens, including children. Dear First Lady, we humbly appeal to you to save our children and our nation from this foreign campaign to ruin our children," Archbishop Lwanga said.
Church painted white
In honour of his wish, most of the mourners who attended requiem Mass were clad in white, and so was the casket and all the wreathes laid.
The body of the renowned educationist is expected to be honoured by students and teachers at parades and Mass at several of his campuses before burial tomorrow in Kitemu on Masaka Road, Wakiso District.