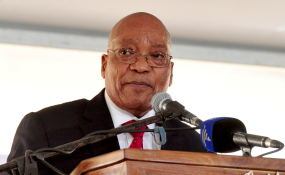 Photo: GCIS
President Jacob Zuma faces a somewhat sticky dilemma as he sits down to do his diaries for the next two months. Should he slip out of the ANC's policy conference at the beginning of July to attend the African Union Head of States summit in Addis Ababa - and risk losing some crucial survival battles back home?
Or should he ditch the AU summit and convince his deputy, Cyril Ramaphosa, to stand in for him on the continental platform - and risk giving Ramaphosa an opportunity to connect with new friends ahead of the ANC's elective conference in December to lobby them for support to replace Zuma in the top spot?
The AU has sent out a reminder to countries that they should not bother sending delegations to the July summit if these are headed by anything less than the country's president, deputy president or prime minister.
Ministers or officials would not be allowed to fill the country's chair on the assembly floor during the heads of state summit.
The seniority of the delegation is needed for better deliberations and quick and effective decision-making, as well as to maintain the gravitas of the gathering.
Zuma's spokesperson Bongani Ngqulunga on Tuesday said he wasn't sure whether Zuma would be going to the AU summit, but he would try to confirm.
He said International Relations and Cooperation Minister Maite Nkoana-Mashabane was set to go.
Another official, however, said Zuma would be going and he was likely to jet in and out, possibly on the same day.
The ANC's policy conference is set to take place from June 30 to July 5, while the AU's head of states summit is on 3 and 4 July. Zuma usually attends for at least two days with two overnight stays.
This is set to be the first summit after Nkosazana Dlamini-Zuma left the AU Commission chair - officially to do ANC work back home, although unofficially she is said to have presidential ambitions too. South Africa has been accused of using the AU Commission chairpersonship as a continental springboard for Dlamini-Zuma's presidential campaign.The policy conference is expected to set the stage for the ANC's December conference as a number of battles fought around especially economic policy being proxy battles for the leadership race.
Source: News24