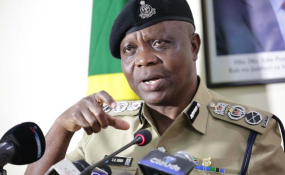 Photo: Daily News
By Katare Mbashiru
The new Inspector General of Police (IGP), Simon Sirro, yesterday addressed his maiden press conference outlining five key security matters that he wants to begin with, especially the criminal elements occurring in the three districts of the Coast Region.
Others that the IGP wants to focus on are violation of road traffic regulations by bodaboda drivers, anti-drugs war, curbing the killings orchestrated by angry mobs as well as corruption within and outside the police force.
Regarding the near-serial killings of police officers and other members of the public within the region, Mr Sirro announced a 10m/- reward to anybody who will volunteer information that will lead law enforcers in the arrest of the perpetrators of crimes.
This means, any person who will volunteer information that will lead to success in the hunt for the mysterious gunmen who have executed over 30 people, among them 11 police officers, will pocket 15m/- because the Coast Regional Police Commander (RPC), Onesmo Lyanga, had earlier promised to offer 5m/-.
"I understand that the Coast RPC has promised 5m/-, but my office will equally provide 10m/- to people who will cooperate to volunteer information that will help us to get these criminals," he added.
Mr Sirro has only four days in office, since he was appointed by President John Magufuli to replace his predecessor, Ernest Mangu who is waiting to be assigned other duties by the Commander in Chief of Armed Forces.
There was no mention of reasons behind the changes at the helm of the police force but speculators link the removal of Mr Mangu to the spate of killings of police officers and CCM leaders within the Coast Region.
Several police officers and ruling party leaders have since died in the hands of unknown people, whose motive behind the assassinations also remains mysterious. At a news conference, the newly installed IGP said it was high time the ongoing killings in the Coast Region got concrete answers.
"These people who are killing people should know that what they are doing is unjust and they should equally expect justice to be done to them in the way they have been acting to others," he noted.
Mr Sirro said his team will seek audience with residents of Kibiti, Rufiji, and Mkuranga to find out what was really transpiring as well as ask them to cooperate with law enforcers, in identifying criminals.
The IGP further declared an all-out war on Bodaboda riders who were disobeying road traffic regulations by carrying more than one passenger, disobeying traffic lights, and failure to put on helmets, among others that they risk facing exorbitant notification fines.
He further warned people who have been killing offenders at crime scenes, instead of sending them to police stations to face justice as provided for by the legislation, to desist from it.
According to him, Since January, over 200 people were killed by angry mobs until this month, an equivalent of the number of people who died during the corresponding period last year.Mr Sirro raised a red flag to drug dealers saying his leadership will leave no stone unturned in the anti-drugs war.
"Those who were earning their living through this illegal business should look for other jobs as they risk being separated from their families," he warned. On Corruption, the IGP said he will not tolerate any corrupt practices within the police force, asking them to observe discipline, integrity and professionalism.
"Any police officer who will arrest a person soliciting or offering bribe will be rewarded the same amount... if you arrest a person who want to bribe 2m/- for example, you will be offered the same amount," he added.
In what appears to be a sigh of relief to RPCs countrywide, at least for now, Mr Sirro refuted reports circulating in the social media that he was planning a massive reshuffle to put up his own team. "I believe that I have the best team that is performing well, so what we need is to work hard... I don't plan whatsoever to make any reshuffle," he said.